Gold Chrome Bugatti Veyron owned by Flo-Rida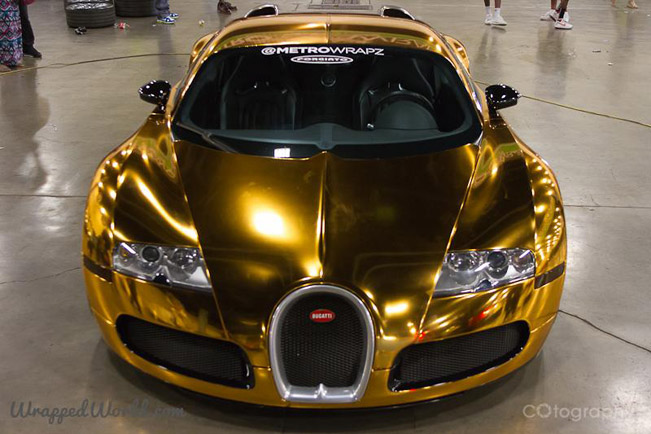 What is better than a Bugatti Veyron? That's right! A gold Bugatti Veyron and by a chance, the American rapper Flo Rida has one.
Typically for rappers, attracting attention is more important than actual beauty. Flo Rida wanted to attract even more attention which is why he used the services of Florida-based Metro Wrapz whose moto is "Go chrome or go home" – very "nice" indeed.
The Veyron received a full shiny gold chrome vinyl wrap. There is also a set of enormous Forgiato 24", 24 karat gold-plated alloy wheels fitted with ultra-low profile tires in order to fit them in the arches.
The Veyron is one of the fastest super cars in the world. It is powered by a W16 8.0 liter quad-turbocharged engine with 1,001HP (736 kW) and 1,250Nm (922 lb-ft) of torque. 0-100 km/h in 2.5 seconds and 0-300 km/h in 16.7 seconds. ¼ mile in 10.2 seconds.