Ford Focus ST-R Ready to Go
Ford are ready to tackle this year's Grand-Am 200 Continental Tire Sports Car Challenge within the ST class. Their contender will be the Daytona International Speedway debutant Focus ST-R. Ford Racing already has a substantial portfolio of production-based race cars if we count the FR500 and Boss 302R. The ST-R clearly has its roots embedded in the standard Focus and the ST:
"The road-going Focus features best-in-class brakes, handling and powertrains and the design and functionality of the various vehicle systems have helped us to develop a global technical specification for teams wanting to race the new Focus cost effectively. Ford Racing in North America has taken this effort and developed the new Focus ST-R. It is a perfect example of how a great production car inspires a competitive race car for enthusiasts." comments Jost Capito, director of Global Performance Vehicles and Motorsport Business Development
Thanks to Ford's Global Performance Vehicles group, Ford Racing have managed to "optimize" the ST-R so that it can go not only to the Grand-Am 200 but also take part in the World Challenge TC and Canadian Touring Car Series. Hopes are also high for the 24h race at the Nürburgring.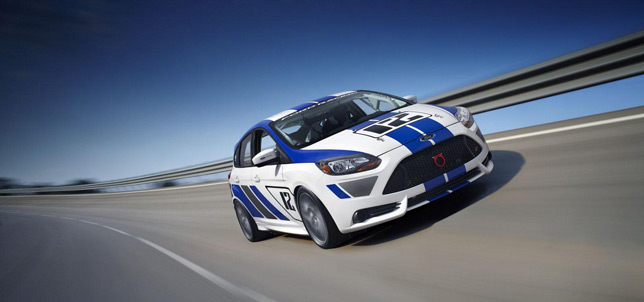 But know all eyes are on the Daytona Speedway. What can we expect there? Well, despite the striking similarity to a standard Focus ST, the ST-R has an all-aluminum 2.0 EcoBoost power plant that has been tweaked and tinkered with as far as technology these days would allow it. High-pressure direct injection, low-inertia turbocharging, revised intake/exhaust systems and twin independent variable camshaft timing (Ti-VCT) all benefit the 250 horsepower figure that comes out of the engine. Torque peaks at 265 lb.-ft and yet it is consistently available throughout the rev counter. A six-speed manual tames the mad horses spewing out from under the hood and delivers unmatched efficiency and power – Props to the guys at Global Performance Vehicles.
Initially the ST-R will be available for ordering only within the US by seasoned hardcore professional drivers, amateur racers and track-day goers. Ford's plan however, is to broaden the  ST-R's availability in other markets as well. Other turnkey race cars by Ford managed to enchant the public so why not the beast in the compact Focus body?
Source: Ford