Ferrari Launches F14 T For Formula One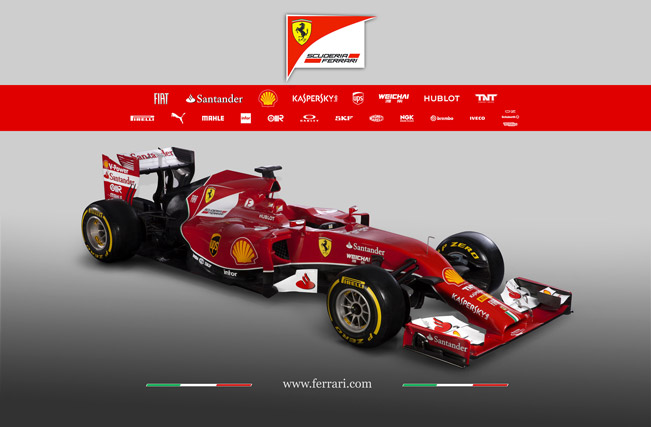 Ferrari F14 T is the sixtieth car built by the Italian company, which was unveiled and is readied to take part in Formula 1 World Championship. What is new here is that the vehicle will sport a turbo-compressor in the Power Unit.
The project for this motorsport car began more than two years ago. Some of the heritage of earlier Ferrari designs can be seen in the F14 T. Such are the pull-rod front and rear suspension. However, the visual appearance of the car is very different to the cars of recent years due to changes to the regulations.
For instance the chassis and nose have been lowered. The rear wing now has a larger stroke DRS, a much smaller overall depth and has no beam wing. The front wing is regulated to be 75mm narrower per side. This was made in order to make this part less vulnerable to collisions with other cars and with the barriers. Moreover, the front wing endplates encompass the outside of the front tyres with the aim to additionally maximize the downforce on the car.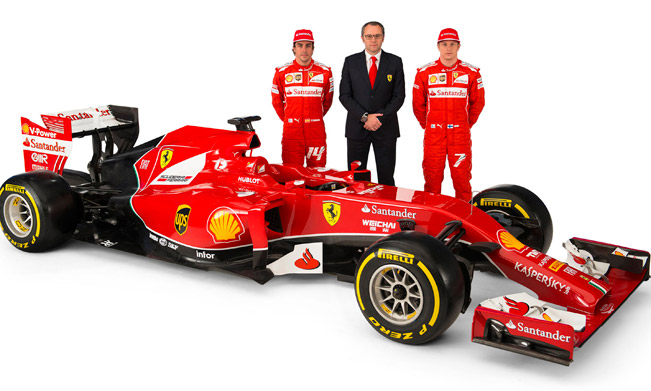 The main area of enhancements is however under the skin of the car. F14 T has completely different cooling, engine oil and water radiators are smaller in order to match the V6 internal combustion part of the Power Unit, an intercooler for the turbo-compressor system has been added.
Another entirely redesigned system is the braking one, which has been modified in compliance with the new regulations. The technicians have ensured greater capacity on the front axle, while Brembo hydraulic caliper at the rear has been reduced in size. Additionally, F14 T will have a brake-by-wire system which optimizes pedal consistency and brake balance control as the ERS braking contribution changes during the braking manoeuvre.
The transmission of the car has been also changed and now was designed in order to ensure that efficient delivery of power through the drivetrain while producing class leading starts and high levels of reliability. At last, the car has been fitted with new Pirelli tyres and 13 inch OZ front and rear wheels.
Ferrari F14 T Technical Specifications:
Chassis in carbon-fibre and honeycomb composite structure
Ferrari longitudinal gearbox
Servo controlled hydraulic limited-slip differential
Semiautomatic sequential and electronically controlled gearbox with quick shift
Number of gears - 8 +Reverse
Brembo ventilated carbon-fibre disc brakes (front and rear) and brake by wire rear brakes
Independent suspension, pull-rod activated torsion springs front and rear
Weight with water, lubricant and driver = 691 kg
13″ OZ Wheels (front and rear)
ENGINE
Displacement 1600 cc
Max revs 15'000
Turbo charging Single turbo
Fuel flow 100 kg/hr max
Fuel capacity 100 kg
Configuaration V6 90°
Cylinders 6
Bore 80 mm
Stroke 53 mm
Valves 4 per cylinder
Injection 500 bar – direct
Units per driver 5
ERS SYSTEM
Battery Energy (per lap) 4 Mj
MGU-K power 120 kW
MGU-K max revs 50'000 rpm
MGU-H max revs 125'000 rpm
Source: Ferrari