Better performance and styling offered by 2017 Charger Daytona and Challenger T/A

2017 Dodge Charger Daytona and Dodge Challenger T/A to spice up this year's Woodward Dream Cruise
Dodge has just revealed the 2017 Challenger T/A and Charger Daytona muscle cars, and we are excited! Why? Because they offer more performance from their naturally aspirated HEMI V-8 engines, new exhaust, chassis and braking upgrades as well as performance styling improvements.
The new special editions are available with either a 6.4-liter "392" HEMI V-8 naturally aspirated 485-horsepower engine, or the 5.7-liter HEMI V-8 with up to 375 horsepower. What's even better is that the production of both will begin this autumn and they will be available to order from September.
2017 Dodge Challenger T/A Models
2017 Dodge Challenger T/A models lineup consists of three variants: Challenger T/A, Challenger T/A Plus and the Challenger T/A 392.
The first one is for those of you keen on classics, because it builds on the standard content of the 375-horsepower Challenger R/T model. Well, it adds a bit of functional performance hardware, like the new "Air Catcher" headlamps with LED-illuminated T/A logos, and the fantastic new 2.75-inch performance exhaust. The alloys come from Mopar, finished in Hyper Black II and sized at 20-inches.
SEE ALSO: Hennessey Venom 800 Supercharged under dyno testing [w/video]
If one wants more, then he or she can add the Super Track Pack for more goodies. Everything is kept very classic, from the Satin Black painted hood and Satin Black front fascia, roof and deck-lid graphic to the T/A bodyside stripes. Premium Black performance seats with signature Houndstooth cloth adorn the interior.
The Challenger T/A Plus adds over the standard equipment of the previous model goodies such as the heated and ventilated Nappa leather performance seats in Black with Tungsten accent stitching and embroidered "T/A" logo; the Uconnect 8.4 system; the Dodge Performance leather-wrapped steering wheel and the six premium speakers and 276-watt digital amplifier.
Challenger T/A 392 comes next and it delivers 485 horsepower and 475 lb.-ft. of torque, making a mid 4-second 0-60 mph times and low 12-second quarter mile times. Being based on the previous model it adds equipment like the signature "T/A Air Catcher" headlamps; Brembo six-piston front and four-piston rear brakes with vented rotors; 20-inch alloys in Low Gloss Black fitted with P275/40ZR20 Pirellis.
2017 Dodge Charger Daytona Models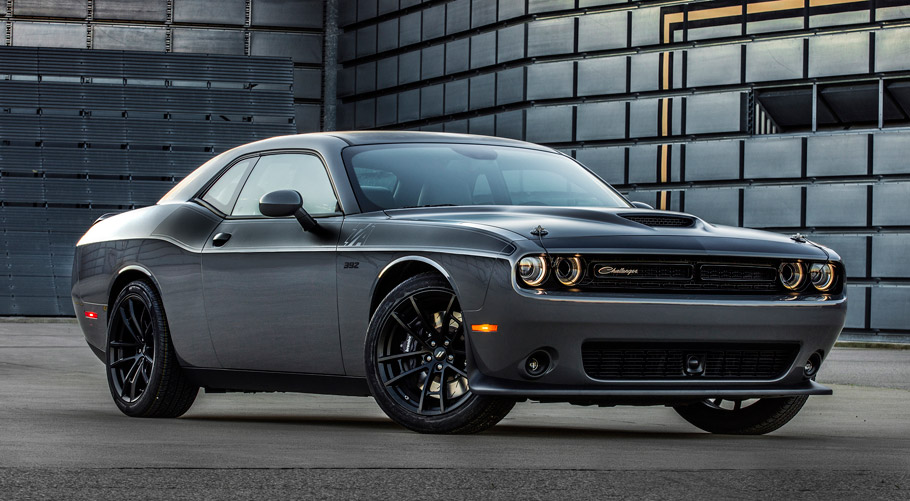 This range comprises only of two cars: the Charger Daytona and the Charger Daytona 392.
Charger Daytona is powered by the 5.7-liter engine. It is based on the Charger R/T model, but features improved engine intake and exhaust with a Mopar cold-air induction system with conical air filter. The exhaust is the same as Challenger's: 2.75-inch active performance exhaust system with 4-inch round tips. Here Dodge has also provided the Super Track Pack.
There are a lot of details in the new model year cars, but impressive are the 20-inch Mopar Hyper Black II alloys fitted to P245/45ZR20 Goodyear all-season performance tires. The signature "Daytona" badging is almost everywhere. The interior has those unique Black heated and ventilated Nappa leather performance seats with horizontal Alcantara suede plowthroughs with Brazen Gold accent stitching. Additional premium content includes driver's seat memory and steering column with memory.
The Charger Daytona 392 on the other hand is driven by its 6.4-liter HEMI powertrain, producing 485 horsepower and 475 lb.-ft. of torque. Building on previous model's standard content, this one adds ultra-high performance Brembo six-piston front and four-piston rear brakes with vented rotors, Mopar conical cold-air intake filter, 20-inch Low Gloss Black alloys fitted with P275/40ZR20 all-season Pirellis, and more.
If you want to celebrate classic muscle cars and also see the model lineups, then you are more than welcome to visit the Woodward Dream Cruise this week. More than 1.5 million enthusiasts are expected to be there.
2017 Dodge Challenger T/A models pricing:
2017 Dodge Challenger T/A                           $37,390 USD
2017 Dodge Challenger T/A                           $40,140 USD
2017 Dodge Challenger T/A 392                    $43,995 USD
2017 Dodge Charger Daytona models pricing:
2017 Dodge Charger Daytona                        $39,890 USD
2017 Dodge Charger Daytona 392                 $44,995 USD
Source: Dodge