DMC Teases Lamborghini Huracan Affari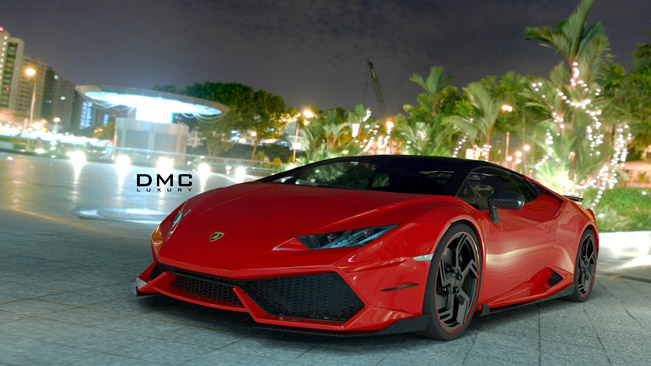 The first photos of DMC Lamborghini Huracan Affari have just leaked. They show more details on the upcoming DMC LP630 Huracan, dubbed as Affari. This is an Italian word and means affair, and obviously the tuners don't have anything against having one with this Lambo. DMC also noted that the internal project code is "STAGE-H1". With this name they make a reference to their Aventador kits, so we must expect a thorough transformation of this supercar.
What we can see from these photos is that the Affari is getting a wide range of aero components. The front bumper for instance has received new tunnels. In fact, they seem to be sliced by aggressive center swords. Additionally, here is also where is featured a set of elegant front lips that deliver additional down-force and enhance the visual appearance of the car.
Furthermore, there have been also added side-skirts that contribute to the unique appearance of the Lamborghini. What is more, they play an important role in the aerodynamics of the car. At the rear, we can see a new rear wing, a base spoiler and a redesigned diffuser set-up. Most of the parts in this project will be made of nothing else but dry carbon fiber.
Another worth mentioning announcement that DMC have made about this project is that the Huracan will get ECU programming. So this means that we can expect from the Affari to produce far more than 610 PS (448 kW) and 560 Nm (413 lb-ft) of torque.
The power will be transmitted onto the road via new set of forged alloy wheels. Their dimensions are 20x8,5" at the front, wile the rear are fitted the 21x12". DMC will be using a 245/30r20 and 325/25r21 tyres for the front and rear respectively.
Source: DMC