One-off Lamborghini Huracan spotted in Hong-Kong [w/video]

Features new design wrap as well as aggressive DMC Carbon Fiber package
It is all about luxury when it comes to Lamborghini. Besides the speed, of course. But the most controversial fact is that the Lambo owners always want more luxury, more speed and more… in general. Hence, companies such as DMC have been emerging and offering what is being looked for. The Lamborghini Huracan LP610 you see in the gallery and video below is a special Cairo Edition made by DMC. It has been spotted in Hong Kong, where immediately grabbed the attention with its unique design pattern on top, the carbon pack and the aerodynamic parts.
The wrap just perfectly complements the aero kit, which is actually the main attraction of this project. One of the most important elements of this kit is the wing spoiler, which is also adjustable to three angle settings: Choose City Cruising, GT Track day or Fun Mode. They are all made by DMC and then tested in the wind tunnel. In addition, the wing comes with a base deck under it. It is the stronger version of the original part that each LP610 has.
SEE ALSO: DMC Ferrari 488 GTB ORSO offers more power and charm than you could expect!
Up front, DMC have added a stunning full front lip spoiler with side flaps, which actually reminds us of the aggressive LP720 Anniversario look. On the sides, the kit continues with new side skirts, which add extra downforce, while the rear diffuser at the tail supports road stability even better. It features front lip, which is more of a cosmetic addition, but really makes this new package stand out.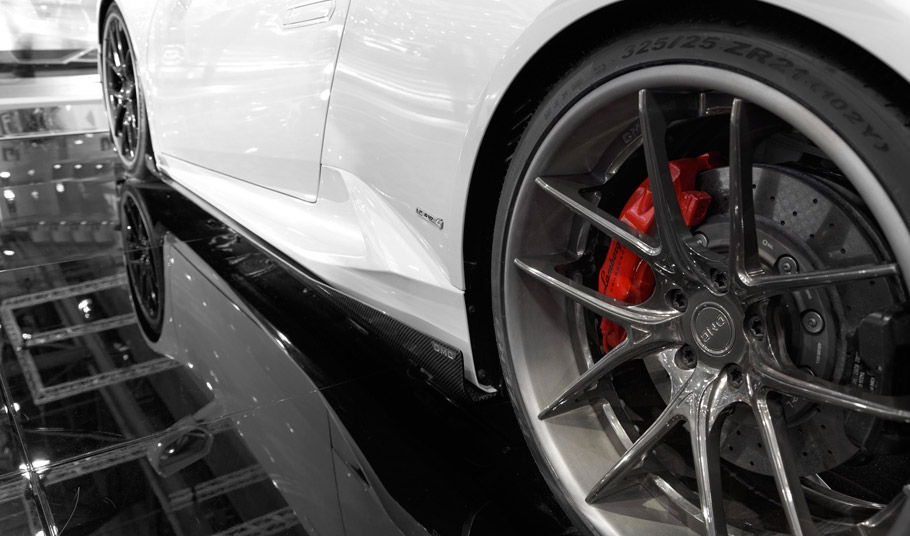 The forged wheels this Lambo runs on come in 20″/21″ and they are fitted with 245/30r20 / 325/25r21 P-Zero tires.
And here is what we have found on YouTube: the video shows the Huracan Cairo Edition being parked on a street in Hong Kong. Well, it is all about showing-off, so make sure you don't miss and watch it. It pleases the eye.
Video Source: YouTube
Source: DMC