Design Triumph: Vilner Ducati Diavel AMG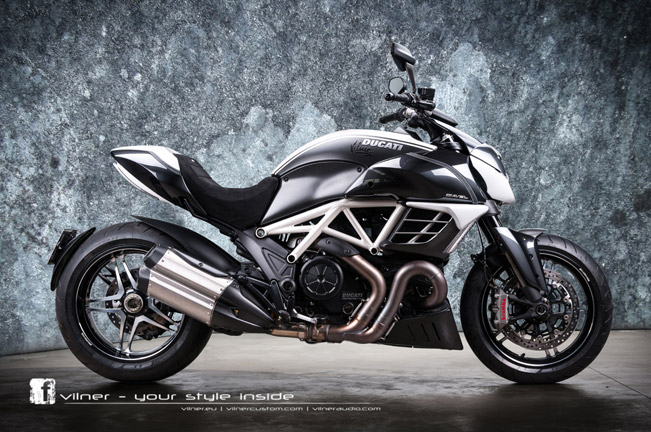 Vilner Ducati Diavel AMG is the name of the latest project of the Bulgarian luxury tuning specialists at Studio Vilner. Although they mainly work on elaborate exterior and interior designs of automobiles, we have seen so far that they can make a motorbike look as exquisite and special as never before. The same is the case with this Ducati model.
The professionals at Vilner revealed that they have reworked this muscle motorbike not because they weren't satisfied with its design, but because of the simple reason that their client wanted to be the only one in the world to posses the most expensive Ducati Diavel AMG.
They also disclosed that it was very tough and responsible task to rework a model which has been in the hands of AMG. To finalize the project they needed four months for designing it and three weeks to diligently work on it.
The designers kept the angel-pearl white color of this limited edition Ducati and synchronized it with white tube frame, thus giving the Diavel its gloomy view. The effect was additionally enhanced by the new mask on the front-light.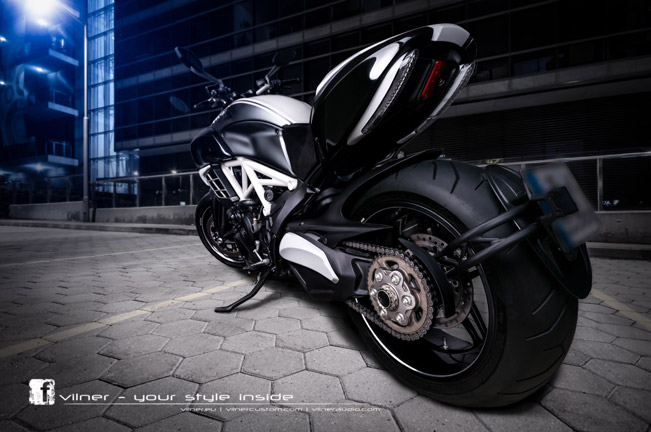 Precisely over the radiators, Studio Vilner mounted entirely new air-ducts, trimmed with black leather straps and contrasting white stitching. Furthermore, there were also created brand new wings of the telescopes. The result is even more sophisticated and unique vision of the front part of the motorbike.
Another entirely reworked part is the tail. As a matter of fact, it was the only element of the Diavel which the luxury designers didn't like. To make it in resonance with their taste, they have narrowed it and therefore gave a lighter vision to the motorbike's rear. In addition, there were also added some new white elements around the tail-lights.
What was left untouched are the already perfect AMG wheels, the embossed seat made of Alcantara and the AMG sports exhaust. The latter is capable of producing a sound like it is coming from the depths of hell. Vilner Ducati Diavel AMG is equipped with 1198 cc engine.
All in all the end result is unique. It not only costs ridiculous amount of money, but it is also one-of-a-kind around the globe. Of course, a serial number comes to testify this, and it is 0350.