DD Customs Restyles Mercedes-Benz SLS AMG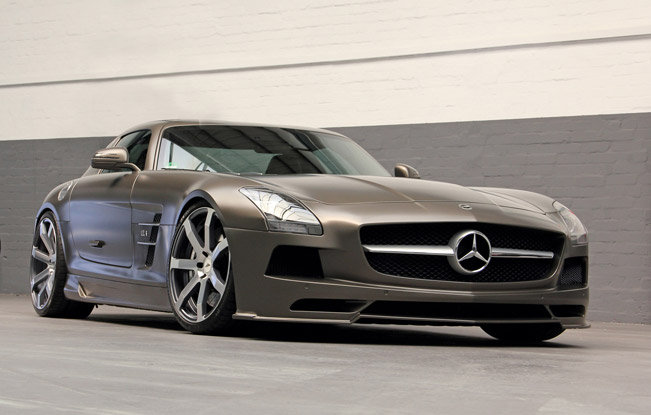 DD Customs Mercedes-Benz SLS AMG not only pays homage to its legendary 300 SL-ancestor from the late 1950s and the early 1960s, but also has the contemporary looks and design features. Just take a look at the slightly forward-inclined grille, the incredibly long motor cowl, the upwards curving winged doors and the rounded rear with flat tail lights. DD customers were inspired by this and did an incredible job for the enhancement of the exterior of this unique car. The body of this sleek Mercedes-Benz was refined with a body kit. The aerodynamics updates include front bumper with cup spoiler, side sills and a tail apron with new diffusor.
To match the masculine appearance and even to reinforce it, the tuners gave the SLS AMG new wheel/tyre combination. At the front were added Corniche Sports Wheels in 9x20 inches, while at the rear they come in size of 10.5x21 inches. Then the rims were combined with Michelin Pilot Sport tyres that have the dimensions of 265/30R20 and 295/25R21 at the front and rear, respectively.
Furthermore, the car is several centimeters lower due to the addition of version 3 undercarriage from KW automotive. The coilover suspension not only has adjustable push-and-pull stage dampenings, but is also combined with the KW Hydraulic Lift System.
The latter offers a brief increase of the vehicle's ground clearance by up to 40 millimetres on the push of a button. At last, the 6.2 litres V8 engine was left in serial condition. However, there is a new sports exhaust, which delivers a surprising variation of voice by the push of a button.
Source: DD Customs