SGA Aerodynamics Customizes Mercedes-Benz SLS AMG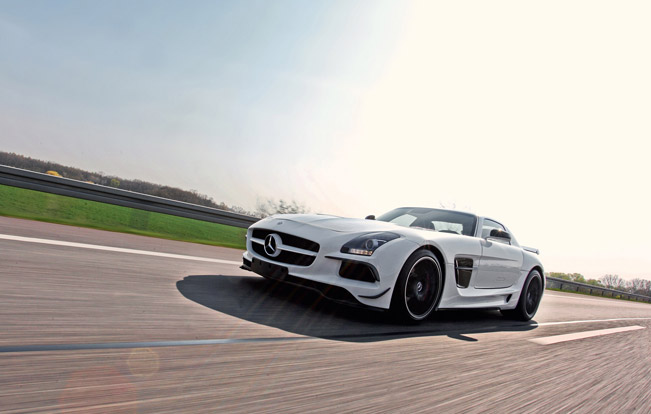 SGA Aerodynamics Mercedes-Benz SLS AMG is a wide-body gull-wing beast that immediately catches the attention. The car is based on the famous Black Series but now is taken further with the added body kit and other enhancements. The visual appearance of the car was completely redesigned and intensified with wider jaws, air inlets and outlets as well as carbon flaps.
At the front the tuners have added a double-layer spoiler which is deeply draw down and framed in carbon-fiber flaps. In addition, as one can see, the engine hood is also entirely new and is equipped with the typical air outlet.
On the sides, SGA Aerodynamics gave this Mercedes-Benz broader side skirts with air inlets and framed them in massive mudguards. The front mudguards carry extensive applications of carbon fiber, while the fuel tank cover is modeled into the rear enlargements.
At the rear, there is a protruding rear valance with lateral gills on the rear. A large double-layer – diffusor is also present. It was made of carbon fiber and keeps the original Black Series exhaust pipe ends. At last, an adjustable carbon rear wing rounds-out the new look of this SLS AMG.
The car is finished in diamond-white paint, which perfectly highlights the carbon fiber components. This Black Series runs on special MAE forged rims, called "forged rotor". Through its turbine optics, the three-part wheel has a directional running pattern and stands out for its chromium-plated beddings. The size of the wheels at the front is 10.5 x 20 and the tires are of size 265/30. At the rear we see even bigger wheels of the dimensions of 12 x 21 inches fitted with 325/25 tires.
Source: SGA Aerodynamics