Cor.Speed announcing exciting Mercedes-Benz E-Class Cabriolet project

Piecha Design takes part in the tuning as well
Cor.Speed is responsible for the overall tuning here, but it actually involves many other good customization specialists. The car under attention is the Mercedes-Benz E-Class W207 Cabriolet, which with it its innate stunning appearance has been further refined. So, basically, the Mercedes on display carries new ARROWS wheels, coilovers and is also fitted with Piecha Design's aero styling.
It has been said that Cor.Speed Performance Wheels have always been special. They are distinguished by their unique designs characteristics, mostly because they are far-far away from the "run-of-the-mill" aftermarket alloys.
SEE ALSO: JMS offers distinctive ways for BMW M1 improvement 
So basically, this Mercedes is the finest example of how these more-than-hot wheels transform the looks of a regular car (not that the W207 is such). To go into the details, the Mercedes-Benz E-Class Cabriolet shown here is fitted with the distinctive 20-inch, 10-spoke Cor.Speed ARROWS design in Higloss Black Polished Finish with Inox Lips.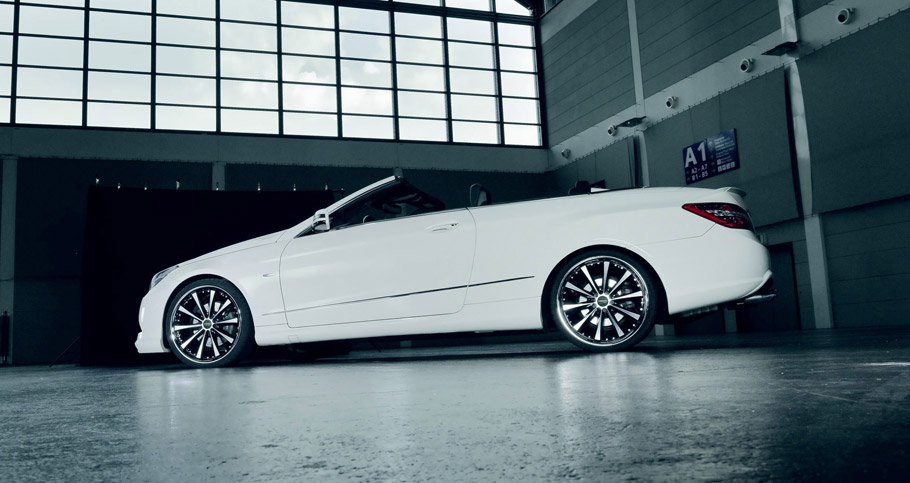 The offset is attractive and adds to the perception of depth, making the car look wider and more purposeful. This new stance is further bolstered by 10 mm spacers at the rear. The alloys are fitted with low profiles measuring 245/30R20 and 275/25R20.
Cor.Speed also installed an H&R coilover suspension system that is fully adjustable for ride height as well as damper bounce and rebound values. The suspension kit can lower the car up to 45 mm at the front and 40 mm at the rear.
This appearance package is rounded out by discreet Piecha Design front spoiler lip. It has been developed with the aim to fit directly and effortlessly to the front valence of the factory AMG body styling kit.
Well, everything has ended up as a nice ride, hasn't it?
Source: JMS