Civic Type R in Various Forms at the Tokyo Auto Salon

Civic Type R has many fans and it is one of those models which make many of us crazy about wanting to see more out of it. And if you are among those people, then Tokyo Auto Salon is your place. This is where a couple of tuners are currently exhibiting their take on the popular car with the red badge. Both the Japanese tuning houses MUGEN and Modulo have unveiled their vision for the Civic Type R. There are also many other customized Honda models, like the various variants of the S660 roadster. On exhibit is the Super GT500 NSX CONCEPT-GT as well.
MUGEN Honda Civic Type R Concept
MUGEN is one of those tuning brands famous for making many adaptations of best-selling Honda models. Their Civic Type R concept looks fantastic with its added stylish elements and aggressive body parts.
SEE ALSO: MUGEN Previews its Honda-Based Lineup Prior Tokyo Auto Show
The pack adds new MUGEN variant of the front bumper, which features contrasting black parts around the lip and wheel arches. The same black theme approach is continued through the rest of the car, including the side and rear skirts for extra an aggressive on road stance. The standard rear spoiler has been replaced with lighter, racing inspired one, and is too finished in black.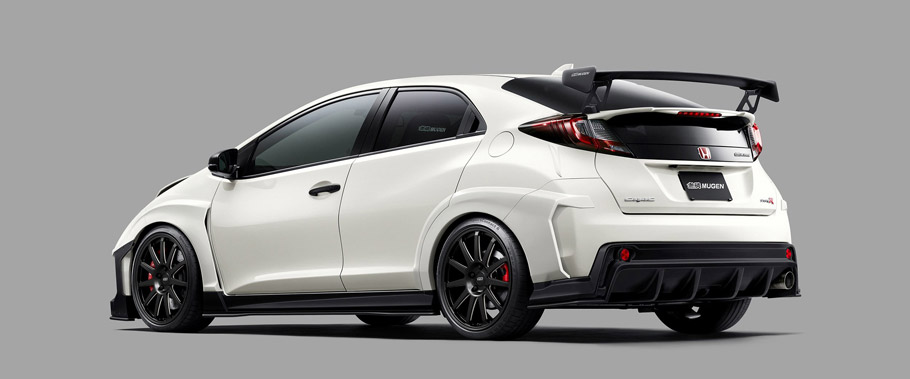 Modulo Honda Civic Type R
Modulo is the other tuner which stands proud at the Tokyo Saloon with its revised Type R. Precisely, the company has added a revised body kit, with flared side skirts. Next, they have replaced the standard fuel filler cap with one of a different design. Red body color accents have been applied to the wing mirror covers and the sides of the rear spoiler and they give the car more versatile stance.
If you are in Tokyo and are intending to visit the show Honda Racing is exhibiting the McLaren-Honda MP4-30, the Super GT GT500 NSX CONCEPT-GT and Honda's entry in the Japanese Super Formula series. Other Honda exhibits at the event are the STEP WGN Modulo Concept, Modulo S660 Study Model, Modulo S660 Drago Modulo Special Model, N-ONE Modulo X, N-BOX Modulo X, N-WGN Daily Luxe Collection + E500 and Modulo FIT, Mugen S660, Honda S660 MUGEN RA Prototype, Mugen STEP WGN Spada and Mugen Vezel.
Source: Honda