Carlsson CGL45
The new aerodynamics package RS, honed to perfection in the wind tunnel, forms the basis of the special edition for the Chinese market and allows the Carlsson CGL45 to express its characteristic style. The widened wheel arches emphasise its markedly sporty presence. The front spoiler and the chrome-finished radiator grille with the Carlsson horse underline its dominating presence. The LED daytime running lights in the front spoiler lip cleverly round off the Carlsson CGL45 lighting concept – these can equally be used as position lights at night. The rear view is defined by the new rear skirt which leaves room for the four oval stainless steel exhaust pipes of the sport rear silencer. All Carlsson accessories are manufactured of high quality PUR-Rim and impress users with their fitting accuracy and paintability.
Carlsson also improves the manoeuvrability of this large SUV with the intelligent lowering C-Tronic® SUSPENSION. This lowers the vehicle by 30 millimetres and thus achieves a lower centre of gravity while also reducing rolling and pitching. In addition, thanks to being connected to the basic vehicle's data communication system, the C-Tronic® recognises the road surface condition and adjusts residual spring travel in milliseconds to suit. This way the intelligent lowering assures both sporty cornering, as well as optimum driving comfort on bad roads.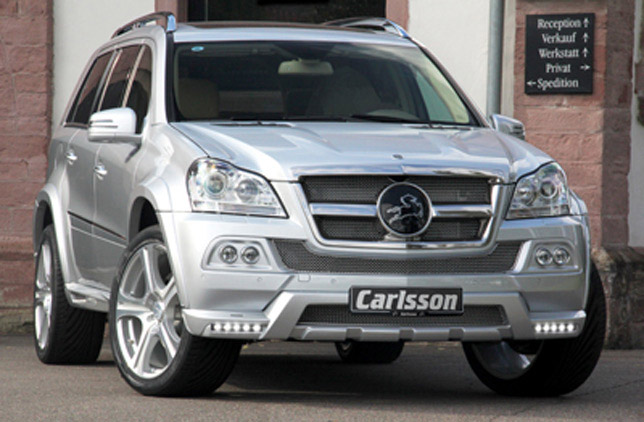 The 22-inch wheel set 1/5 Evo Brilliant Edition was specially developed for the GL. The one-piece light alloy wheel impresses not only with its high load capacity and low weight but also an elegant design. This way a wheel has been created which promotes liveliness with a minimum of unsprung mass, and at the same time offers the highest level of stability. With its five spokes and groove, the 1/5 Evo Brilliant Edition manages to radiate elegance. The light alloy wheels are shod with Vredestein high-performance 305/35 ZR22 tyres.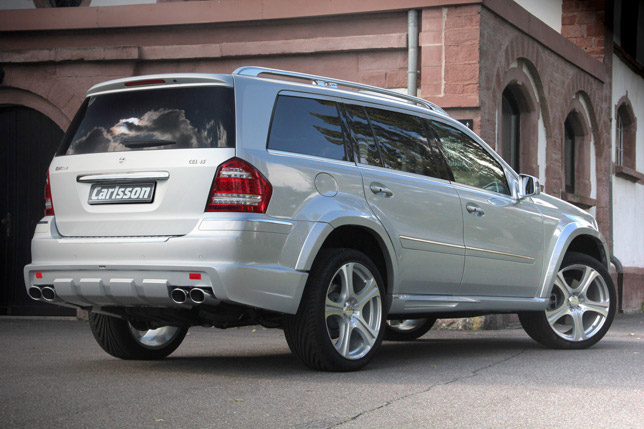 The Carlsson CGL45 interior receives the Chinese customer with the illuminated Carlsson lettering on the door sills, embossed Carlsson logos on the headrests,  Carlsson door pins as well as aluminium pedals with footrest. In addition, each vehicle is equipped with a signed plaque in the centre console, bearing a consecutive serial number and a signature of Carlsson CEO Markus Schuster. After its transformation at Gut Wiesenhof the large Mercedes-Benz GL has become more agile, more dynamic and more luxurious. Thus, the Carlsson CGL45 special edition for the Chinese market makes a statement of self-confident individuality.
Source: Carlsson