Carlsson 1/5 Evo Ultra Light - Lightest 21-inch wheel of the world
Carlsson broke another world record. The automobile manufacturer from Merzig/Saarland developed the lightest 21-inch-wheel in the world. The 1/5 Evo Ultra Light weighs an astonishing 40 percent less than any cast 21-inch wheel. Additionally, Carlsson once again confirms that technically top-engineered products can also be top of the league as far as their appearance is concerned.
The automobile manufacturer Carlsson who is specialised on Mercedes Benz models achieved the enormously light weight of only 10.8 kg by applying forged technology. Thereby, the material is densified so strongly that not even traces of air or pores remain in the aluminium. At the same weight load, this allows a smaller wall thickness compared to customary rims. The result is a wheel with 40 per cent less unsprung masses than a cast 21-inch wheel. This advantage can be felt in terms of driving pleasure and car handling. The wheels show a better reaction, there is not even the slightest bounce even when you drive more dynamically and overall they look more agile and render more driving pleasure.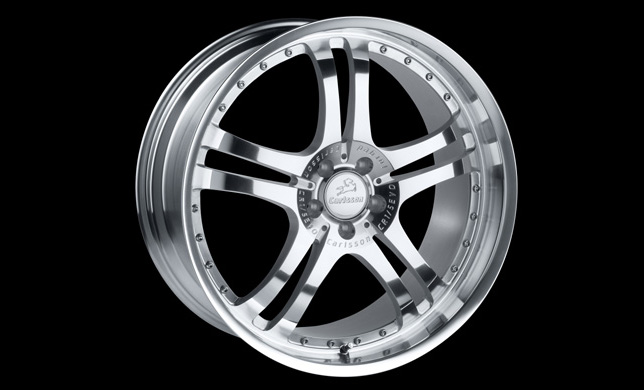 The high-quality production is reflected in the 1/5 Evo UL design. Based on the Evo wheel family, five fine double spokes stretch from the centre of the wheel to the rim bead. Normally, ultra-light wheels need a lot more spokes in order to perfectly distribute the upcoming powers. But the engineers and the Carlsson head designer Rolf Schepp achieved the same wheel load values with the only five-spoke 1/5 Evo UL and were even able to maintain the slim character of the struts. This beautiful design especially underlines the gloss-turned surface with the highly transparent clear varnish. The brushed sides of the spokes form a discreet contrast and emphasise the brilliance of the surface. 20 bolt heads between the spokes give the wheel a dynamic multi-part look.
Carlsson offers the weight-optimised wheel 1/5 Evo UL in the dimensions 9.0x21 and 10.5x21 inches for the Mercedes S-class (W221), CL-class (C216) and GLK-class (X204) from 1,665 euros including VAT. Of course, all wheels are approved by the Technical Control Board.