Bugatti Veyron vs Nissan Juke R [video]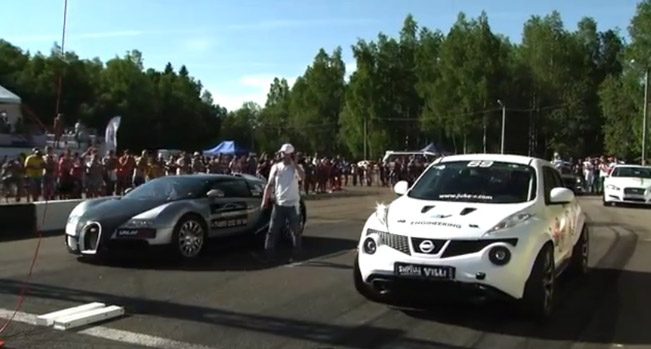 Dragtimesinfo has published an epic battle between tuned Nissan Juke R and stock Bugatti Veyron.
The Veyron is one of the fastest super cars in the world. It is powered by a W16 8.0 liter quad-turbocharged engine with 1,001HP (736 kW) and 1,250Nm (922 lb-ft) of torque. 0-100 km/h in 2.5 seconds and 0-300 km/h in 16.7 seconds. ¼ mile in 10.2 seconds. That's the factory's data, but in the real world the situation is slightly different.
The Veyron in the video managed to cover ¼ mile in 11.276 seconds with 214 km/h terminal speed, which is over a second slower than the claimed time. Other interesting fact is the terminal speed at 1 mile – 309 km/h, which the Bugatti made in 27.067 seconds, instead of 18-19 seconds. Still, the Veyron is a winner in this match, just because of its aerodynamics.
On the other side, the Juke R Shpili Villi is having "just" 700HP, but it covered ¼ mile in 10.575 seconds with 212 km/h. The 1 mile time is 28.075 seconds with 285 km/h mainly because of its front drag area.
Enjoy the video, where the underpowered SUV almost won a drag race versus the ultra-expensive "supercar".
Source: Dragtimesinfo