Bugatti at Auto Shanghai 2011
At the display of Auto Shanghai 2011, Bugatti has showcased its latest two extremely-fast, state-of-the-art rides, the Bugatti Veyron 16.4 Grand Sport and Bugatti Veyron 16.4 Super Sport.
Representing the most powerful convertible in the world - 1,001 horsepower, 1,250 Nm torque and a top speed of 407 km/h (limited), Bugatti's stunning-looking Veyron 16.4 Grand Sport is finished in matte white for the Shanghai motor fair. On its outer area, the exclusive collector's vehicle is highlighted by blue carbon applications and blue shaded lightweight alloy rims, which demonstrate remarkable contrast. Inside the cockpit, the premium-styled beast ride is just fascinating, packing full leather/Alcantara upholstery reinforced by white stitching on seats, steering wheel and gear lever and an aluminum console.
Wolfgang Durheimer, President of Bugatti, stated at the Auto Shanghai: "This Grand Sport is an example of the versatile possibilities customers have when designing their unique Grand Sport in co-operation with the Bugatti team. We will continue to expand the design possibilities for the Bugatti brand."
Celebrating its Asian premiere, the Bugatti Veyron 16.4 Super Sport displayed at the occasion is fully wrapped in black visible carbon contrasted by few exterior details in polished and anodized aluminum, including the outer surfaces of the alloy wheels and the EB logos on wheel caps, the fuel filler cap and the rear lid. Opening the doors of the Veyron 16.4 Super Sport, a two-tone "Snow Beige" and "Beluga Black" masterpiece interior is immediately ready to amaze the connoisseurs. Additionally, the interior is further beautified by carbon-made sheathing on the doors and inset in the central console, exclusively continuing the theme from the ride's outer styling.
What is even more remarkable by the Super Sport's design theme is its output figures - 1,200 horsepower, 1,500 Nm and 415 km/h (electronically limited to protect the tires), which are just enough to place the vehicle as the highest performing road-legal, series model in the world.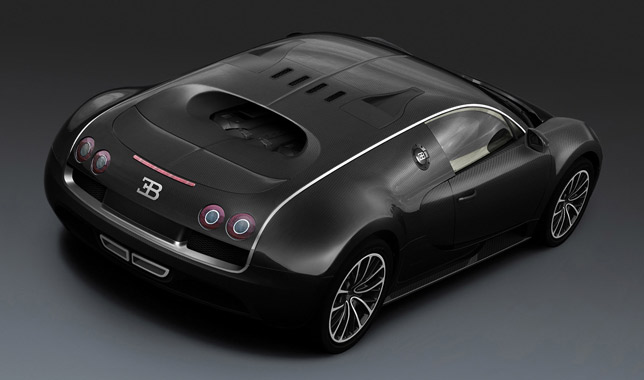 Source: Bugatti