Brabus Smart ForTwo Fan Edition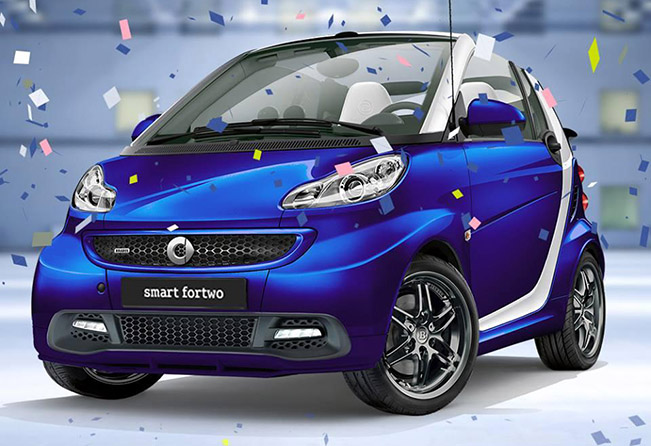 Smart has unveiled a special ForTwo Brabus Fan Editoin, which will be exhibited in Cascais, Portugal between July 17th to 19th. The convertible small car boasts a unique styling created by the fans.
Several weeks ago, the manufacturer asked its fans to build and vote their favorite ForTwo Edition and now after the contest has ended, the final configuration will be revealed.
The exterior boasts glossy deep blue body paint combined with a white safety cell. There are also Brabus matte grey alloy wheels fitted with low-profile tires and some dark elements. The interior boasts complete white leather upholstery with embroidered headrests and diamond quilting on the seat's side supports.
A totally 13,863 fans expressed their vote during the contest and one of them will win a five-day trip for two people at the Smart Times 14 event. Smart is expected to introduce the all-new ForTwo in Berlin, Germany this month.
Originally, Brabus Smart ForTwo Cabrio is powered by a 1.0 liter three-cylinder turbocharged petrol with 120HP (88 kW) at 6,000RPM and 160Nm (118 lb-ft) of torque at 2,250RPM. 0-100 km/h in 8.9 seconds and a top speed of 170 km/h (112 mph), which is quite much for such a small car (curb weight of around 800 kg).