Supersized Brabus 850 6.0 Biturbo Mercedes E 63 AMG Station Wagon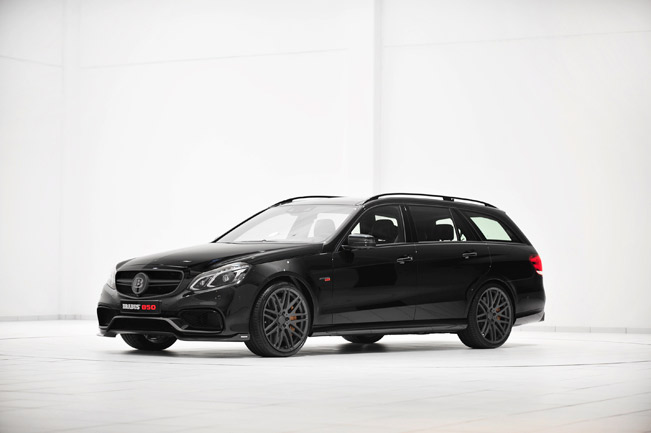 Brabus seem to have a somewhat peculiar understanding of what an estate is. See, we look at the Mercedes-Benz E 63 AMG Station Wagon and go, "Oh, look at that loading space! I can finally move that cupboard/drawer/sofa/farm animal that I've been wanting to get rid of for years. This being an AMG car, I could probably do it really, really quick as well." Brabus, on the other hand, have a look at it and go. "Has it got an engine? Yes? Wonderful, we've got work to do!" And by "work" they mean, dismantling the Merc's "puny" 5.5-liter twin-turbo V8 and substitute all the major components with their own. The result is currently on a stand at the 2013 Essen Motor Show: The Brabus 850 6.0 Bitrubo Mercedes-Benz E 63 AMG Wagon.
As the name suggests, we are talking about a 6-liter 850 hp engine. What Brabus have done to achieve such power is increase the cylinder bore to 99 mm and install new forged pistons. A custom crankshaft with a stroke of 96 instead of 90.5 mm plus eight custom piston rods were also on the list. On top of that (no pun intended), the two cylinder heads have been optimized for improved mixture flow.
The whole air-intake system has also been substituted. Think two Brabus turbochargers with more room for compression and special exhaust manifolds. Before the air reaches them, however, it passes through a bigger-than-normal air duct on the hood and bigger air filters. The intake and charge-air tubes are plated with a special "Gold Heat Reflection" material for better heat dissipation. ECU management also comes into play and so do the high-performance catalysts, plus the Brabus stainless-steel sport exhaust system that provides the right note at the right time.
If you think 850 hp is impressive, wait until you hear the torque figure – 1,150 Nm. This means that the 255/30 ZR 20 and 295/25 ZR 20 tires that come with the programme have to both provide enough traction for the Biturbo to get to 62 mph from a standstill in just 3.1 seconds, and stay intact throughout. The top speed is limited to 186 mph.
Visual Brabus treats include the front spoiler lip that acts as an add-on to the production bumper and the Brabus diffuser insert that nestles the two dual ceramic-coated tailpipes. Don't forget the largest in size Brabus 9.5Jx20 Monoblock F or R wheels or the optional Brabus Monoblock R "Platinum Edition" set that sees 9Jx20s at the front and 10.5x20s at the back.
Inside, the distinguishable features include a Brabus Mastik leather and Alcantra upholstery, a pair of aluminum shift paddles, and a set of Brabus Race pedals.
Source: Brabus