BMW Concepts at the 42nd Tokyo Motor Show
BMW will bring the two famous concepts – i3 and i8 at the 42nd Tokyo Motor Show, next month. With the "i series", the BMW Group is adopting an all-embracing approach, redefining the understanding of personal mobility with purpose-built vehicle concepts, a focus on sustainability throughout the value chain and a range of complementary mobility services. Both vehicles were introduced at the Frankfurt Motor Show, this year.
BMW i3 Concept is a small 5-door city car, which can carry up to four occupants. It is powered by an electric motor with 170PS (125 kW) and 250Nm (184 lb-ft) of torque. 0 to 100 km/h in 7.9 seconds and top speed of 150 km/h (93 mph). The lithium-ion battery pack delivers enough energy for range up to 160 km (100 miles). It can be recharged in just 6 hours to 100%. The overall weight of the vehicle is 1250 kg (2755 lbs).
BMW i8 Concept is a sports car, which comes with a three-cylinder turbocharger petrol engine combined with an electric motor. The total power is 353PS (260 kW) and 550Nm (406 lb-ft) of torque, so the performance is superb – 0 to 100 km/h in 4.6 seconds and top speed of 250 km/h (155 mph). The car weighs just 1480kg. The i8 can go on electricity alone up to 32 km (20 miles). The fuel consumption is amazing for such amount of power - 2.7 l per 100 km with CO2 emissions of 66 g/km.
An additional range of mobility services - which can also be used independently of the cars - will be an integral component of BMW i alongside the vehicles themselves. A totally new development in this area will be vehicle-independent mobility services.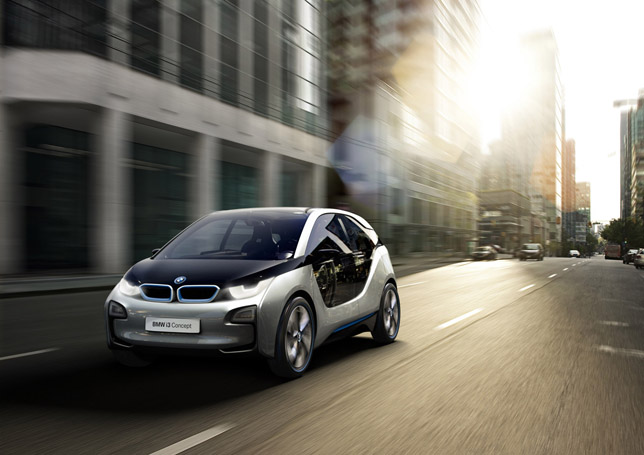 Source: BMW