Audi R18 e-Tron Hybrid Quattro
Audi R18 e-Tron Quattro is the world's first LMP1 car to combine a highly-efficient TDI with a hybrid system. The race car will make its official debut on May 5 in the six-hour race at Spa-Francorchamps in Belgium and will compete for overall victory at the famous 24 Hours of Le Mans in France on June 16/17.
"Audi has always consciously selected championships and categories in racing that have a close relationship to production and therefore have technical relevance for the Audi customers," said Head of Audi Motorsport Dr. Wolfgang Ullrich, who personally drove the new Audi R18 e-tron quattro onto the stage on Wednesday evening during its world premiere in the Audi Training Center at Munich airport - electrically and almost silent.
"Quattro, TFSI and TDI are three excellent examples of how motorsport has stimulated production development. A similar tendency is apparent with the e-tron quattro: we test a completely new technology on the race track before it's introduced to the Audi production line.", he added.
The R18 e-tron quattro uses recovered kinetic energy, which is fed as electric into a flywheel accumulator before being retrieved under acceleration again above a speed of 120 km/h. The extremely efficient V6 TDI diesel produces 510PS (375 kW) powering the rear wheels. Both systems complement each other to create the new drive principle e-tron quattro.
"The TDI engine invented by Audi is still the most efficient drive in the world," said Dr. Wolfgang Ullrich.
"We are convinced that the TDI has even more potential. This is why Audi not only supports the hybrid in motorsport as it does in production, but in parallel also the further development of the conventional drive.", he added.
Audi Sport Team Joest will field two R18 e-tron quattro and two R18 ultra prototypes in the Le Mans 24 Hours on June 16/17. The two hybrid cars are driven by last year's winning trio Marcel Fässler (CH), André Lotterer (D) and Benoît Tréluyer (F) as well as Dindo Capello (I), Tom Kristensen (DK) and Allan McNish (GB) who boast a total of 13 Le Mans wins between them. New signing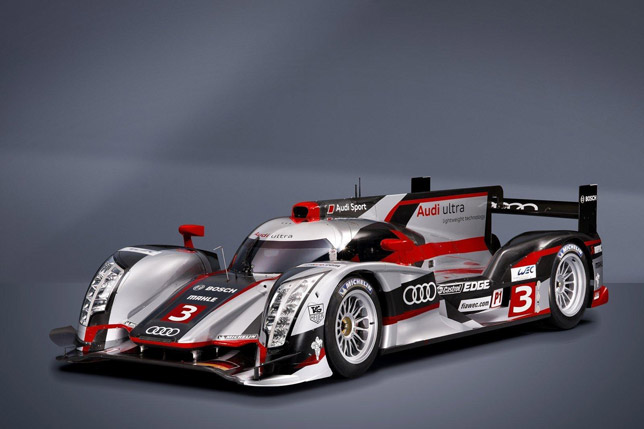 Source: Audi