Audi navigation system plus - Updated
The new Audi navigation system plus with MMI (Multi Media Interface) operating logic in the A3, TT and R8 offers improved screen resolution and unmatched route calculation speed.The radio-navigation system, version E (RNS-E), can be combined with the Audi music interface and reads up to 32 GB SD memory cards. The new system is available immediately and costs between 2,270 and 2,565 euros, depending on the model.
The most obvious improvement are the 800 x 480 pixel, high-resolution graphics displayed on the 6.5-inch screen. Route calculation is blazingly fast thanks to a latest-generation processor clocked at 600 MHz. In addition to the recommended lane, the split-screen display now also shows speed limits taken from the navigation data for freeways and highways. In topographic map view, the driver and front passenger can scroll vertically, horizontally and now also along the route as they wish.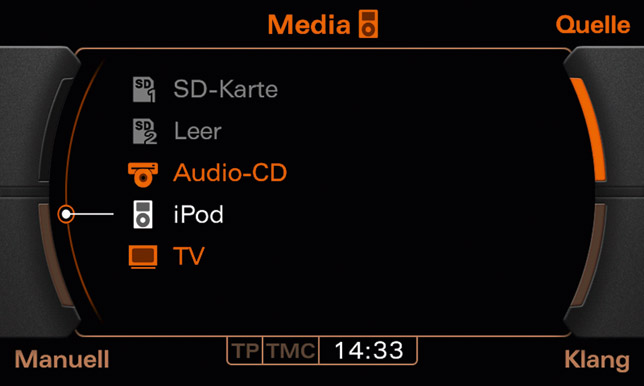 External storage media or MP3 players such as an iPod can be attached via the Audi music interface, which is available to customers as optional equipment. Another new benefit is that it charges the external devices.
The navigation system plus now features the intuitive operating logic of the media playback menu, which can also be found in the latest Audi MMI systems. Title information is now displayed, making it easier to search through the music collection.
A Bluetooth adapter for the Audi music interface available at retail stores enables wireless music playback from a mobile phone or MP3 player. There is no need to visit the dealership just to keep the Audi music interface up to date: Updates can be downloaded free of charge from www.audi.de/mp3 and transferred to the car via a USB stick.
On the back of the display, which can be folded away at the push of a button, are two slots for SD and SDHC cards with capacities of up to 32 GB. That is enough for up to 14,000 songs – 700 hours or one month of uninterrupted listening enjoyment.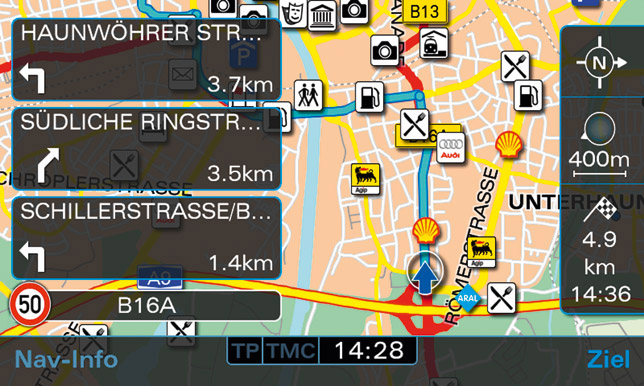 Also new is the optical parking assistant. In the Audi R8 it can be combined with the rearview camera. In addition to acoustic warning signals, the distance to the front and to the rear is now displayed optically on the high-resolution display. When combined with the rearview camera, the graphics from the parking assistant are superimposed over the live image from the camera.