Aston Martin Vantage V8 GT4 to Appear at CTSCC
Aston Martin Racing, jointly with Multimatic Motorsports, intend to continue their winning streak with this year's Grand-Am Continental Tire Sports Car Challenge (CTSCC). The Toronto-based Multimatic company is no stranger to  CTSCC previous titles and so, racing one of the two team Aston Martin V8 Vantage GT4s will be Multimatic's acclaimed drivers Scott Maxwell and Joe Foster. The other one will be driven by Hollywood film star Patrick Dempsey, a talented racer in his own right, partnered in the opening round of the series by Aston Martin Chief Engineer and greatly experienced Vantage GT4 racer Chris Porritt.
This is not the first time Aston Martin and Multimatic seen in cooperation on a common project. The Canadian firm helped develop the Aston One-77's carbon fibre chassis and various carbon fibre components for the Aston Martin Zagato. They also have a four-post testing rig based in the UK that has been used on many occasions by road going and racing Astons.
The Vantage GT4 was first seen back in 2006 when, almost in stock condition, forged its name at the Nurburgring 24h race. Up to this day the car has not changed a lot – it still has the standard 4.7l V8, the same road car aluminium chassis with its suspension and a manual transmission. It all sounds very crude but with a reputation of reliability and numerous wins on endurance races, the Aston V8 Vantage is not to be taken lightly. It has been tuned specially to deviate from the FIA standard to meet the regulations of the Grand-Am challenge and with service provided by Multimatic it is ready to go.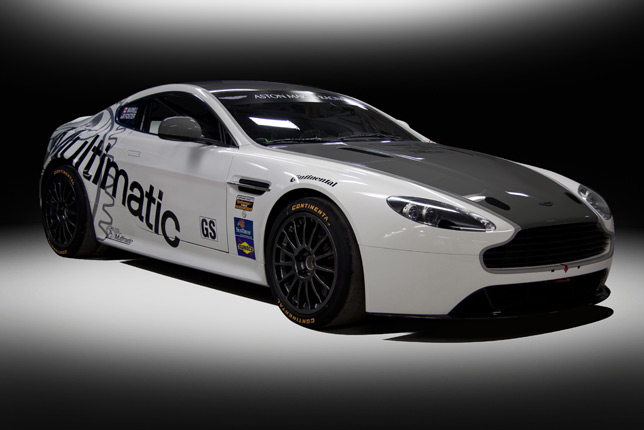 The CTSCC is run by the Grand American Road Racing Organization. Some of North America's most iconic circuits will see action this year with over ten races which last for two and a half hours each. The challenge starts on the 27th of January at the Daytona International Speedway where the Aston will be competing in the Grand Sport category that consists of six- and eight-cylinder, production-based cars. Other notable circuits include Watkins Glen International, the Indianapolis Motor Speedway and Laguna Seca, and the Lime Rock Park in Connecticut which will be the conclusive race at the end of September.
Source: Aston Martin