BMW X6 FALCON by AC Schnitzer is Another "Oscar-Winner" Debuting in Geneva

As we have told you last week, AC Schnitzer will be present at the Geneva Motor Show. There they will not only exhibit and premiere the BMW M235i ACL2 we spoke about, but also this X6 called the FALCON. The SUV has been improved with an aero kit, but also includes power uprating, depending on the engine the X6 is equipped with, which makes it perfectly practical. There are also other tweaks that are worth mentioning, that make the FALCON a true star on the road.
The Performance Upgrades
The X6 35i which originally produces 306 hp, is now boosted to 360 hp, while the X6 M's horses jump from 575 hp to 650 hp. On the diesel side, the BMW X6 30d, 40d and M50d deliver 309 hp instead of 258 hp, 360 hp instead of 313 hp and 49 more hp than the standard engine.
SEE ALSO: "Less is More" is True in Case You Are Driving AC Schnitzer BMW M235i ACL2 [w/video]
In addition, the tuning brand also offers AC Schnitzer silencer options with "Racing", "Sport" and "Sport Black" tailpipes. There are even other variants of the AC Schnitzer silencer with flap control and two "Carbon Evo", "Sport", "Sport Black" and "Carbon Evo" tailpipes. For those loving to make sound on the road, AC Schnitzer has created a special sound module.
The Aero Kit
Continuing with the exterior appearance, it is obvious even from the images in our gallery below that the X6 FALCON has been substantially widened. Precisely, the front is 50mm larger, while the rear is 90 mm larger. In addition, the front and rear wings, including FALCON emblem, gives the vehicle a masculine stance and powerful appearance.
The aero pack continues with the in-house made AC Schnitzer front skirt, bonnet vents, carbon mirror cover, rear wing in the export version, rear diffusor, carbon rear skirt insert and rear skirt film.
Suspension & Wheels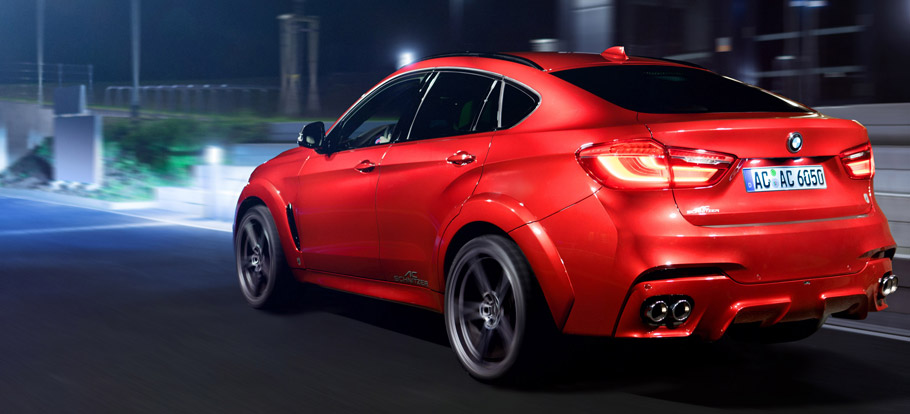 The X6 has been lowered by 20 - 30 mm up front and 15 - 25 mm at the rear due to the addition of suspension spring sets. To make a good contrast, the tuners decided to add bigger wheels of 22-inch size and AC1 model. Dressed in two colors, the three-piece AC1 Forged Racing Rim, are matched with corresponding tires.
Interior
At last but not least, there had to be done something for the interior. Although the changes are minor, they contribute for the more comfortable feel of the cabin. The X6 FALCON impresses with its aluminium pedal set and foot rest, AC Schnitzer key-holder and velour foot mats.
The good news is that the unlike the BMW M235i ACL2 Concept, the FALCON can be ordered and is dedicated to those customers seeking more individuality. With this model, the tuning experts will once again stun the Geneva audience and will demonstrate that anything is possible beyond the standards.
Source: AC Schnitzer