ABT Release Audi TT Roadster with 310 HP

Audi TT models are the hottest topic lately. Since the announcement of the details for the 2016 TT and TTS models, as well as the TT Clubsport Turbo Woerteersee concept, everyone started speaking about them. So for this reason, we are very pleased to introduce to you a special project, which involves ABT tuning company and the TT roadster. After the modifications the car received, it is more agile and even more beautiful. Let's see why.
Engine
The standard four-cylinder 2.0 TFSI unit produces 230 hp (169 kW), which makes enough wind for an open-top experience. After the upgrades that ABT Sportsline gave it, the unit is capable of producing 310 hp (228 kW) and 440 Nm (325 lb-ft).
Suspension, Wheels & Tires
This TT also benefits from new in-house made suspension springs and stabilizers. This results in better balance and agility. ABT also ensured that this Audi gets new wheel spacers of 24 or 30mm and runs on ABT forged alloys in the dimensions of 20 inches.
SEE ALSO: Audi is About to Show Its Latest Concept Sports Vehicle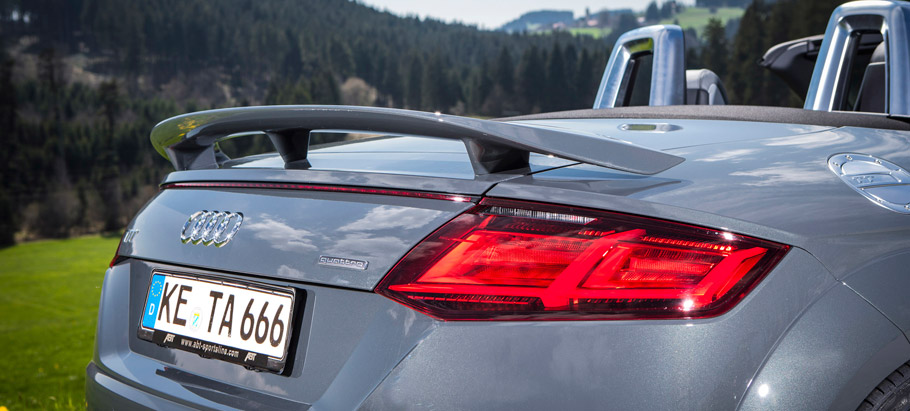 Exterior
The tuner has also created an exclusive body kit for this sports car, which make it look amazing from any angle. Precisely, the kit comprises of front skirt add with spoiler lip and mirror caps featuring the ABT logo.
At the beck, we get impressed by the new fixed rear wing and the skirt insert with an offset centre. Not to mention the new ABT exhaust system with black-chrome-plated tailpipes and lasered ABT logos.
Source: ABT