2014 Audi RS7 Sportback Facelift - Price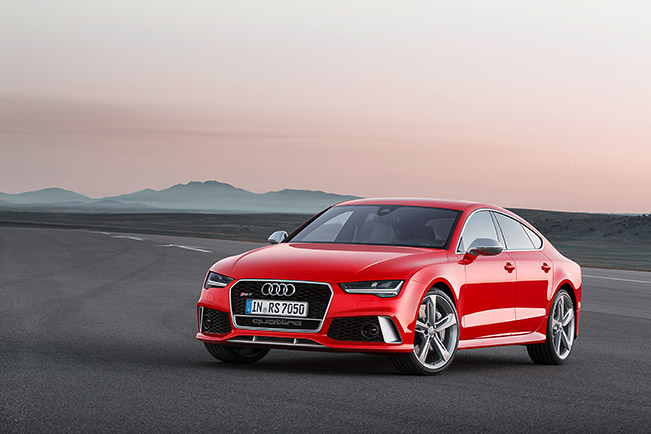 Audi has revealed the new 2014 A7 Sportback Facelift, last week and now it is turn to the top-of-range RS7 Sportback. The German manufacturer is very proud with its latest creation, because it is simply fantastic. The large five-door coupe comes with new LED headlights and even more enhanced infotainment features.
The most important – a twin-trubo 4.0 liter V8 TFSI with – 560HP (412 kW) and 700Nm (516 lb-ft) of torque. 0-100 km/h in 3.9 seconds and a top speed of 305 km/h (190 mph). The engine is connected to an 8-speed tip-tronic gearbox sending the power to Quattro AWD. The fuel consumption is decent – 9.5 liters / 100 km with CO2 emissions of 221 g/km (24.8 mpg US or 29.7 mpg UK).
Some of the interesting exterior features include matte aluminum, glossy black and carbon packages. Otherwise, the RS7 Facelift features aggressive body kit including modified front and rear bumpers as well as fresh body paint colors such as Sepang Blue, Mythos Black, Glacier White and Floret Silver. The 2014 RS7 rolls 20" forged alloy wheels, but 21" set is available as an option in three color finishes. Carbon ceramic brake system is also available as an option.
The interior boasts new instrument cluster along with new air outlet controls, new shift paddles, Quattro logo and an updated MMI infotainment system with MMI touch function.
2014 Audi RS7 Facelift will hit the market in a month with pricing starting from €113,300.
Source: Audi