2013 Aston Martin V8 Vantage SP10 - Price €96,635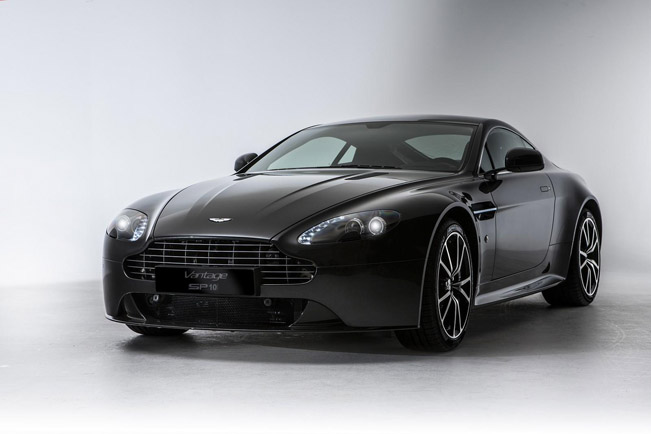 Aston Martin has announced the V8 Vantage SP10, which is inspired by the GT4 Racer. The V8 Vantage S Special Edition will be available as both – Coupe and Roadster. The pricing start from €96,635.
2013 Aston Martin V8 Vantage SP10 is powered by a 4.7 liter naturally aspirated petrol engine with – 436HP (321 kW) and 490Nm (361 lb-ft) of torque. The engine is mated to a 6-speed manual gearbox or a 7-speed automated manual transmission available as an option. 0-100 km/h in 4.5 seconds and a top speed of 305 km/h (189 mph) for both versions.
The Vantage SP10 is offered in a bespoke specification that reflects its close affinity with the racing car
Both versions are finished in Ceramic Grey Metallic paint, while the Roadster's top has a Titan Grey paint. Other special features include a set of 19" alloy wheels, black brake calipers, new front splitter, carbon fiber rear diffuser and new taillights. The interior boasts black accents and spectacular 1000 WATTS Bang & Olufsen BeoSound premium audio system.
"Aston Martin has a long and successful tradition in motorsport. Since in the GT4 class the technical similarities between racing cars and their road model cousins are extremely pronounced, many of our customers see their own Aston Martin as a way to identify with our motorsport activities, or they actively participate as gentlemen drivers", commented Jeffrey L. Scott, Managing Director of Aston Martin Lagonda of Europe.
"With the new Vantage SP10 we are now offering a V8 Vantage S with a special motorsport and race track flair – at a competitive price point.", he finished.
Source: Aston Martin