2012 Kuncheng pickup
At the Auto Shanghai 2011, FAW-GM, a joint venture between GM China and FAW has displayed for first time in front of public its all-new, 2012 Kuncheng pickup.
Boasting an extremely powerful unit with unique combustion, air-changing, lubrication and cooling technologies for delivering amazing fuel efficiency and minimize emissions while generating low levels of noise, the vigor ride's plant is promised to have a long service life and high reliability. It includes an electro-thermal plug cylinder with pre-heating technology, ensuring smooth starts at temperatures aslow as -25 degrees.
FAW-GM President David Dunahay shared: "The Kuncheng is the first product that will be manufactured at FAW-GM's new facility in Changchun. It is leveraging the expertise of both its parent companies. Our new facility is fully adopting GM's Global Manufacturing System as well as GM's advanced quality control system to ensure its products meet global standards for power, safety, fuel economy and reliability."
In the terms of cabin ambience, the 2012 Kuncheng pickup pleases the senses with sedan-like comfort yet showcases titanium-shaded center console, front and rear power windows, power rearview mirrors and central power locks.
Its super strong loading cargo box is 480 mm in height, which is 100 mm taller than boxes in traditional pickups. In addition to that, it also has exclusively fashionable styling, including: integrated diamond crystal headlamps, diamond foglamps and a chrome grille, which highlight the pickup's robust and grand character.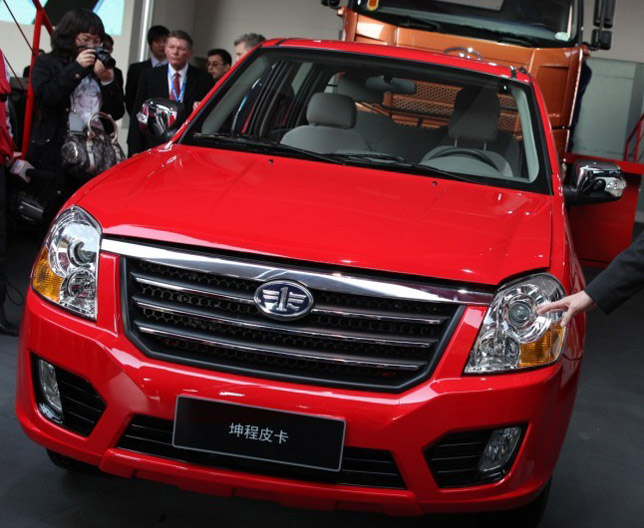 Source: GM