20 Years of Ferrari in China, 20 Special Editions of the Ferarri 458 Italia
While Chrysler are reestablishing their presence on the Chinese market, Ferrari are merely marking their 20th anniversary there. But they too have a special edition in store - A "logma" themed Ferrari 458 Italia. Only 20 examples will be made and none of them will be sold outside China.
So what is "logma"? It's an old Chinese idiom which means "the vigor and spirit of the legendary dragon-horse" (That was totally our guess). A dargon-horse – what are the chances? We have a prancing horse up and ready on any standard Italia you might think of. That's why the livery needed for the logma special edition includes only the addition of a dragon. But what a dragon it is! Right there on the Marco Polo Red bonnet, enclosed in a black and gold racing stripe, twisty and windy as if it were a racing track.
The gold finished bendy winglets and rims do a fine job complementing the whole look which is sure remain in your field of view... especially if the driver inside isn't brilliantly proficient in Chinese – the start button is all symbols. Gold embroidery decorates the car's headrests and a plaque set into the dash lets you know that this is an Italia '20th Anniversary Special Edition'
On a side note, to mark the occasion, Ferrari are also setting up their first ever permanent brand exhibition outside of Maranello at the Italia Center of Shanghai World Expo Park. Think of it as a macro fair...that covers 900 square meters...and will remain open for 3 years. Besides the opportunity to marvel at various Ferrari icons, visitors will also have access to a selection of images and videos made especially for this exhibition.
Stick around as we might see this again, next week at the 2012 Beijing International Automotive Exhibition.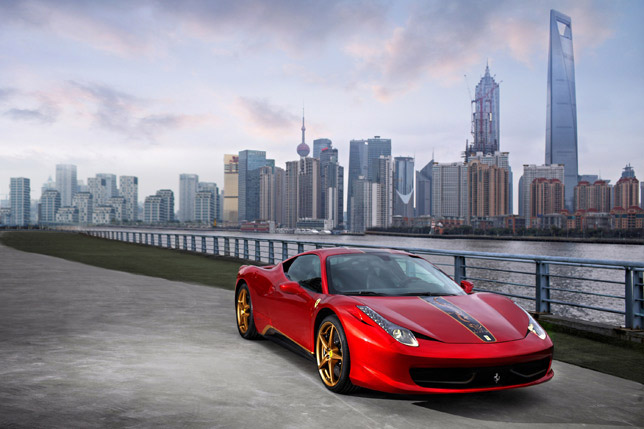 Source: Ferrari