Zagato Shows Aston Martin Virage Shooting Brake at Concours D'Elegance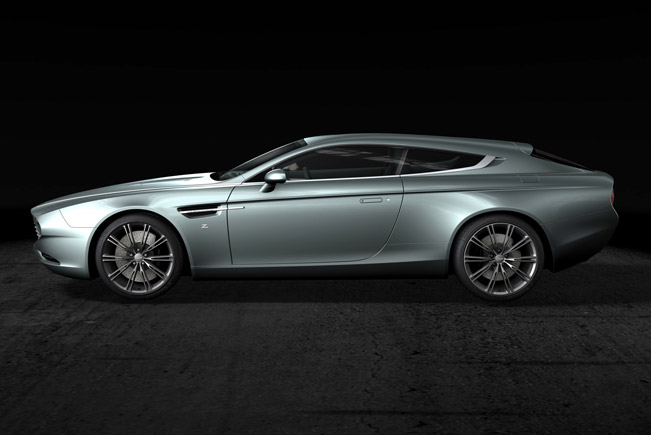 2014 Aston Martin Virage Shooting Brake Zagato debuted this weekend at the Concours D'Elegance. This is a one-of-a-kind car, which was commissioned by a client based in Europe, who desired an atelier-level, collectible modern car. As you can see this car features a bespoke cutting-edge Zagato design for this elite Aston Martin vehicle. The car pays homage to Zagato's artistic tradition as a part of centennial trilogy that started in 2013 with the highly-acclaimed DBS Coupé Zagato Centennial and DB9 Spider Zagato Centennial. This modern interpretation shares similar design cues with the V8 Vantage and Volante of the mid 80s.
In 2013 Zagato paid tribute to Aston Martin's 100th Anniversary. Back then it revealed the DB9 Spider Zagato Centennial, who was created for the American car collector Peter Read. The DBS Coupe Zagato Centennial was commissioned by a young Japanese collector of modern Zagato cars. Both models were unveiled the same year at Kensington Gardens in London during the official celebration.
After Zagato's Coupé and Spider, the Shooting Brake is a logical successor. In fact, this is one of the most appreciated body styles, in the Italian and British tradition. Although these cars come to celebrate the 100th anniversary of Aston Martin, Zagato's Trilogy arrives also in time with its own 95th Anniversary.
Since the 60s, the Shooting Brake body has referred to a luxury coupé, rigorously-styled with two doors and a functional boot space. This body style was created to match drivers' sport and leisure passions. An interesting fact is that nearly all of the prestigious English marques include a Shooting Brake mode.
To sum up, there are three different Aston Martin donor cars – the DBS, the DB9 and the Virage; there are three different models of body works - Coupè, Spider and Shooting Brake; and there are three clients from three different continents - Asia, America and Europe.
Source: Aston Martin