Xtrac sees a number of applications for flywheel hybrids in road cars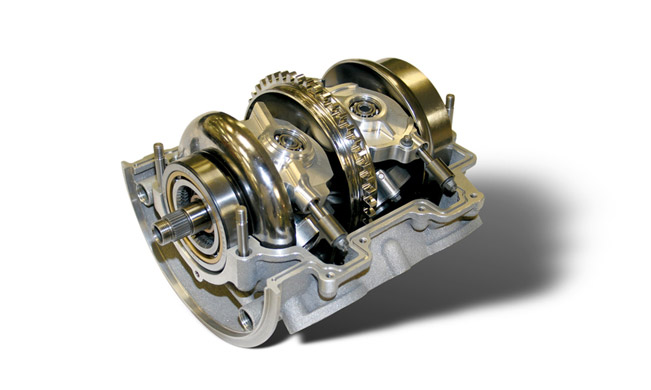 Transmission technology specialist Xtrac says the flywheel kinetic energy recovery systems (KERS) currently being developed for Formula One could be applied to road vehicles in a number of ways.
"By providing an additional boost of power, the F1 technology is particularly relevant to the trend to fit cars with smaller engines in pursuit of better fuel efficiency and lower CO2 output," says Xtrac technical director Adrian Moore.
"The technical challenge with engine downsizing is compensating for the loss of engine torque and driveability, which can be restored by applying flywheel technology.  It is also possible that a mechanical KERS system could be used as a range extender in a battery electric hybrid vehicle or even to power vehicle auxiliaries.
"All are potential applications of the technology, subject to the size of the flywheel, compactness of the system and vehicle packaging requirements.  These are all resolvable technical issues.  The intent of the KERS technology in F1 is to consider energy recovery, storage and discharge, and to demonstrate that technology in a novel and effective way."
Complementing its work in F1, the transmission technology provider is also an active partner in a new project to develop a flywheel hybrid system for premium cars.  Xtrac forms part of a consortium supported by the UK government's Technology Strategy Board, which recently announced funding of ?23 million for 16 innovative low carbon vehicle development projects.
The flywheel hybrid project will involve the design and development of a mechanical KERS system for use in a premium segment passenger car as an alternative solution to other hybrid systems and to prove its effectiveness and viability for production.  Jaguar is leading the project, which will be carried out by a consortium made up of Flybrid Systems, Ford, Prodrive, Ricardo, Torotrak and Xtrac.
"We are very excited about being part of a consortium that has successfully secured funding to undertake one of the major UK low carbon vehicle programmes," said Peter Digby, managing director of Xtrac.  "Taking a technology that has been developed for motorsport and implementing it for road vehicles in order to improve fuel economy and reduce carbon emissions so quickly after the emergence of the base technology shows how rapidly the UK motorsport industry can react.  It is no surprise that a number of our consortium members are successful motorsport engineering companies who have taken up the challenge."
Xtrac has been involved in energy efficient motorsport initiatives since 2001 and more recently has played a key role in designing, developing and integrating a mechanical KERS system for F1 with partners Flybrid and Torotrak.   Xtrac's role is to provide the toroidal continuously variable transmission (CVT) between the flywheel and the vehicle powertrain.
Given the need to develop systems in time for the 2009 season, the CVT has already undergone rigorous bench testing on Torotrak and Flybrid test rigs. The three F1 project collaborators all strongly believe that the mechanics of this system can be transferred to other technology areas including road vehicles.
"There are some peculiarities which are distinct to F1 due to the regulations, such as the control system, integration of the ECU and the operating parameters," says Moore, "but as the original Torotrak CVT concept was intended for road vehicle transmissions, the flywheel KERS opportunity readily allows for the use of toroidal CVTs in cars.
"Historically, there are many instances where a new technology initially looks challenging to install in certain applications only to find a few years later that it is smaller, lighter and performs better than anyone ever envisaged.  F1 will certainly help advance this process."
The energy recovery rate and storage requirements of a flywheel for a road car could be considerably less than that required in F1 where the energy which can be recovered from 5g braking is significant.  As the flywheel is required to be charged, some preliminary motion may be required; though road cars could store energy in the flywheel directly from the engine, which is not currently permissible under F1 regulations.  Road driving conditions also vary from the stop-start conditions experienced in a town environment to constant speed cruising found on motorways.
"Although still maturing, KERS has stimulated the introduction of radical new technologies to F1 and ultimately to other engineering sectors," says Moore.  "The mechanical based concept offers one such solution and indeed could offer significant energy efficient benefits to the driveline of both race and road vehicles."
Moore is presenting a paper outlining the design and development of the CVT used in the Flybrid F1 system this week to leading automotive engineers and technical experts attending the Global Powertrain Congress being held in Vaals in the Netherlands.
This is not the first time that Xtrac has presented a paper at this high level conference demonstrating the potential crossover of transmission technology between motorsport and road vehicles.  Last year it presented details of its gearbox developed for the world's first commercially viable diesel-electric drivetrain.  The low-cost energy-efficient drivetrain had been prepared by automotive engineering consultancy Zytek for assessment by carmakers in a vehicle fully meeting the requirements of the UK government's Ultra Low Carbon Car Challenge (ULCCC).
A published copy of Xtrac's latest paper on the CVT development for the flywheel KERS for F1 and its potential for road vehicles is available from the International Council for Powertrain Engineering and Management (ICPEM), the non-profit organisation that organises the conference.  Information is available at www.gpc-icpem.org.
The Global Powertrain Congress, currently celebrating its 10th anniversary, has established itself as an international event focused exclusively on the needs of the powertrain community.  The event is sponsored by IPCEM to help advance knowledge of science, engineering and safety related powertrain technologies.