World Premiere of 2013 Porsche Cayenne GTS in Beijing
The high-performance SUV 2013 Porsche Cayenne GTS is to make a world debut in Beijing. The vehicle delivers 420 hp (309 kW) and now comes with lowered chassis and improved driving dynamics.
The brand will finally unveil the second-generation Cayenne GTS at the Beijing International Automotive Exhibition in just two weeks. The popular SUV's design is based on the Cayenne S. However this new model comes with 20 additional horsepower, a 20 mm lower ride height and a lower final drive ratio which equals improved driving dynamics.
The power of the 420 hp comes from the V8 engine (an active All-Wheel-Drive system) coupled to an eight-speed Tiptronic S transmission with integrated Auto Start Stop function. This is unique combination, indeed, because it enables the Cayenne GTS to accelerate from 0 to 100 km/h in only 5.4 seconds and achieve a top-track-speed of 162 mph.
The exterior of the car is no less than unique as well. The 2013 Porsche Cayenne GTS can be effortlessly recognized by its high-gloss black trim, prominent side skirts and wider wheel arches as well as the hood and front fascia from the Cayenne Turbo.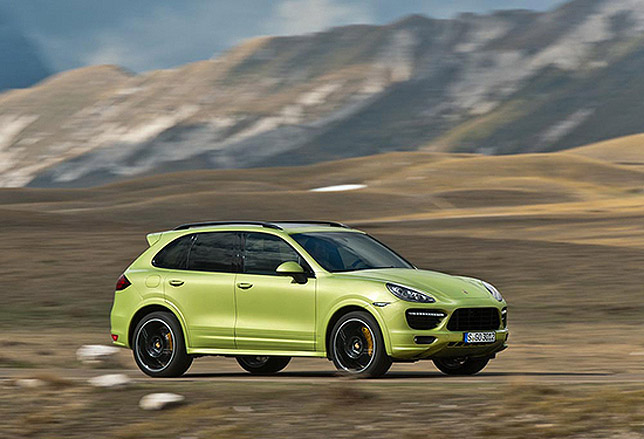 In addition, this SUV rides on 20-inch RS Spyder wheels with a one-of-a-kind offset for the GTS. They come as a standard. What comes also as a standard is the sport exhaust system with matte black twin tailpipes.
Furthermore, two new colors are available for the Cayenne GTS: Peridot Metallic and Carmine Red. The interior of the Cayenne GTS includes exclusive GTS eight-way adjustable front sports seats with Alcantara accents. What is more here is the new Sport Chrono package, which is now available to monitor the advanced performance offered by this amazing GTS model. A Sound Symposer channels genuine engine intake sounds into the cabin.
The 2013 Cayenne GTS will go on sale in the U.S. in August 2012, with a base price of $82 050.
Source: Porsche