Wheelsandmore Revitalise a Hypercar God – The McLaren SLR 707
Rarely someone expresses discontent with the iconic Mercedes-Benz SLR McLaren. It is true however that besides being exotic it is also old. 10 years old in fact. So now the already acclaimed German tuning house Wheelsandmore have left various AMG's behind and went the extra mile to revise the ageing hypercar. Welcome to the SLR Wheelsandmore 7o7 edition.
Even at the start was well aware that the standard car has a 626 hp monstrosity under the bonnet which churns out mesmerizing 780 Nm of torque. They believe that this power can now be utilized more efficiently by completely upgrading the suspension set up. And so, with the help of the suspension whizzes at KW Automotive, this is exactly what they have done. We are talking about a compression and rebound adjustable, racing grade aluminium coilover and aluminium damper housings. And, because of the new suspension kit and the SLR's now lower centre of gravity, Wheelsandmore have seized the opportunity to increase power output to 707 hp (hence the edition 7o7) and 970 Nm of torque. That new figure is courtesy to the company's performance pack which upgrades the ECU and uses a larger pulley for the compressor. The end result is a time of 3.5 seconds from 0 to 60 mph (100km/h) – Impressive!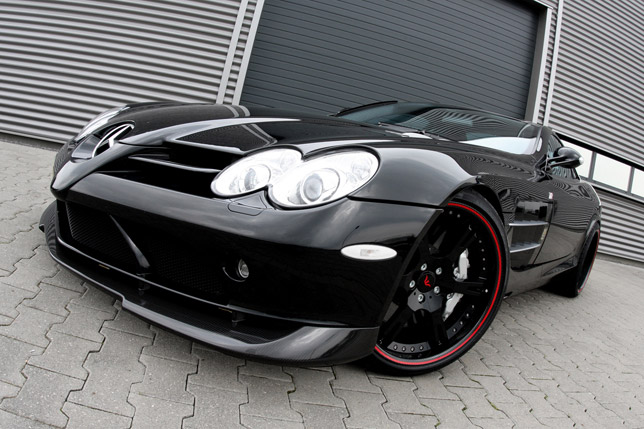 Naturally, to stand up to its name, Wheelsandmore, have introduced lightweight, handcrafted, multi-piece forged wheels - 9,5x20" for the front axle with 255/30/20 Dunlop Sport Maxx tires on them and 11,5x20" ones at the back again fitted with 305/25/20 Dunlops. The red line on the rim edges is a fine touch if I may say.
Inside changes are sublime, modest and tasteful: a grippy AMG Performance steering wheel a center console garnished with carbon fibre patches and and entirely carbon shift paddles.
Source: Wheelsandmore