Wheelsandmore Lamborghini Gallardo LP620-4 Superleggera
Rest assured, the future is green. In fact, here's some of it right now – a Laborghini Gallardo Superleggera. To the unsuspecting, yet adept eye, it's an LP570-4. That indicates that it has 570 hp and an AWD layout. The thing is, Wheelsandmore have been working on it but it's all very subtle. One of the most daring alternations made here is the name change – The Lamborghni Gallardo LP620-4 "Green Beret".
That's right. 620 hp for this one. What they have done to do that is remap the Gallardo's 5.2-liter V10 engine, add some space-age air filters and an exhaust system which, as a bonus, has a remote controlled valve for a spectacle of sound. The end result stands at 50 hp more than usual ans 50 Nm of torque as well.
As for wheels, the Green Beret Lamborghini has been let loose with a size 9.0 x 20 (front) and 11.0 x 20 (back) 6Spotrz² , three-piece, forged rims. In turn, they have been properly treated with a set of 245/30/20 and 295/25/20 Continental Sport Contact tires. A stylish line goes on the edge of the rims as a complement to the body paint.
Not that it needs much correction, but the stance has also been revised. Thanks to a special coilover suspension with adjustable levels of rebound and compression, the "LP620-4" can now leap over speed bumps or scrape off the tarmac from the road.
That pretty much wraps it up – no aerodynamic kits, no gills, no wings. It's subtle, clean and has nothing to prove. Still, don't try to intimidate it in between the traffic lights.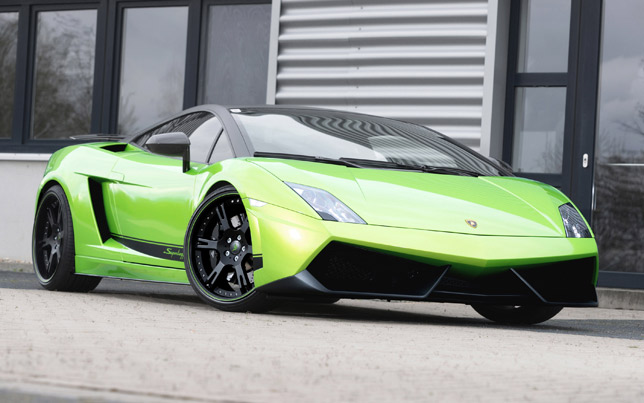 Source: Wheelsandmore