Why Volkswagen Golf R is the best car for power tuning and how Wetterauer Engineering proves that fact?

Volkswagen Golf R is probably one of the most preferred vehicles to tune and power-uprate by performance enthusiasts. Therefore it is no surprise when we see it so regularly tuned by various brands which offer abundant and versatile customization packs. Today under the spotlight is the work of the professionals at the Wetterauer Engineering, which has did their best on the seventh generation VW Golf R.
Being at the top of the range, and supported by a turbocharged and a 4WD, the Golf R is a proud contributor of 300 hp (220 kW) and 380 Nm (280 lb-ft) of optimum torque. Although this might seem a remarkable figure for a compact car, it is also great starting point for chip tuning.
SEE ALSO: Is the family car Volkswagen Passat B8 ready to tackle any performance challenge? 
Taking advantage of this are the engineers at Wetterauer, who have developed a multi-stage performance upgrade for the car, making it as they say "the most potent Golf ever". The output increase had to be significant, so they did not carry it out simply with a software remapping.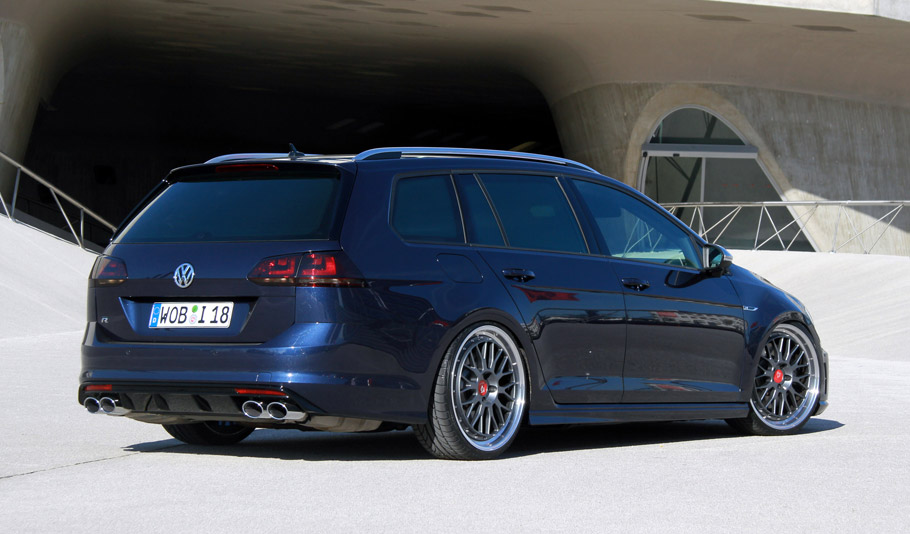 Hence, the Wetterauer tuners created a three staged conversion specifically for this Volkswagen. The basic ECU software on Stage 1 helps the Golf R generate an impressive 340 hp (250 kW) and 440 Nm (325 lb-ft) of torque, while the next stage is increasing these numbers to 380 hp (279 kW) and 470 Nm (347 lb-ft). It also includes a free-flow air filter. At last, the Stage 3 is making it possible for the car to make it to 400 hp (294 kW) and 510 Nm (376 lb-ft) of torque. This stage also requires hardware upgrades in the form of a free-flow sports air filter, larger diameter downpipe with sports catalyst, and a stainless steel exhaust system with four outlet pipes.
Besides the power tuning, the Golf R variant shown here also comes with updated suspension and wheel/tyre package that optimizes handling and grip, and offers a low and purposeful stance. The coliover suspension kit comes from KW (it is Varant 3 to be more precise) and it features fully adjustable bounce, rebound and ride height.
The wheels are sized 20-inches and are delivered by mbDESIGN LV1. They are fitted with 235/30R20 tyres. At last, but not least, SRS-Tec front wings with 25 mm wider wheel arches were installed.
Source: Wetterauer Engineering