VOS Performance showcases new Lambo Huracan project. And it is astonishing!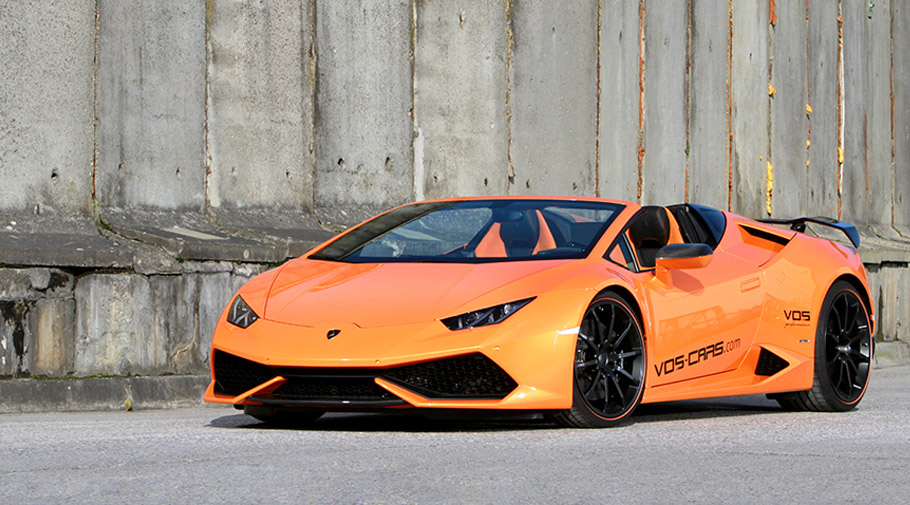 We all love Italian vehicles, don't we? And there is a fine reason for that: they are all simply amazing. Beautiful, elegant and agile. And of course, Lamborghini team keeps its high positions in the ranks of Italian premium sport car segment. However, there is one particular model that catches the eye more than many other siblings. And this is indeed the Huracan that has been one of the best, if not the best, selling model for a long time now.
The vehicle definitely deserves its popularity: as any other Lambo machine, it is reliable, agile, fast and of course, expressive in styling. However, there are many people who are still not satisfied by what the vehicle has to offer. Even from Lamborghini's most popular model so far. And some of these people decided to see what they can do to make the Huracan even better.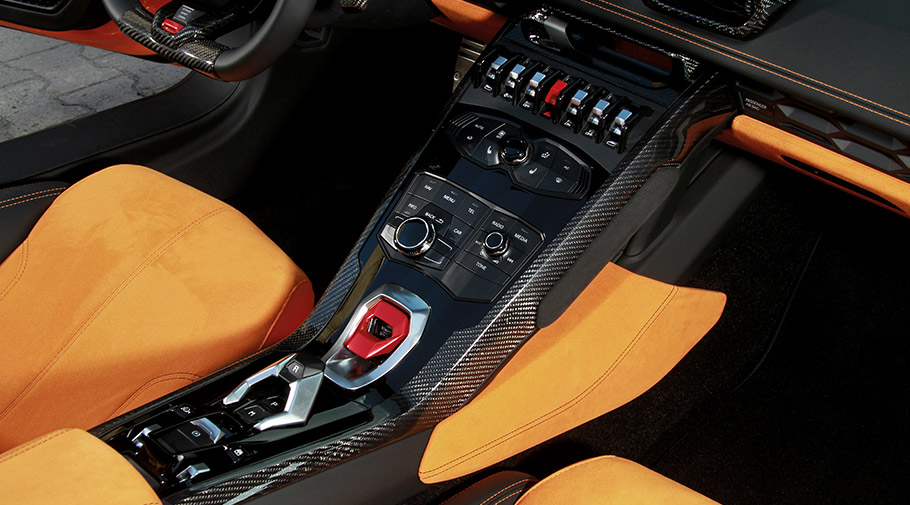 Indeed, we are talking about VOS Performance team that set new benchmark in the field of premium vehicle tuning with the unveiling of VOS Performance Huracan Spyder. This is a heavily customized version of the vehicle that relies on special carbon-fiber inserts and special interior and exterior tweaks. So, let's have a closer look, shall we?
Exterior styling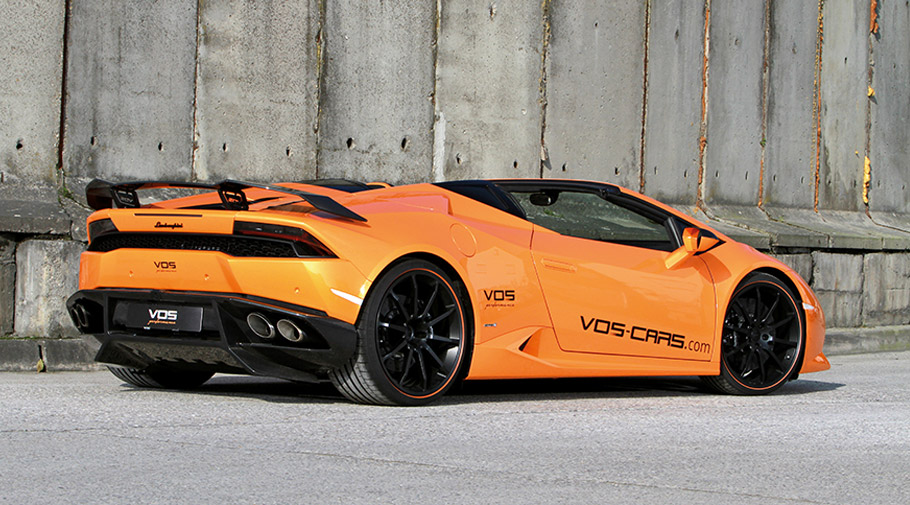 VOS team knows how it's done. Believe us! What impressed us is that engineers and designers have managed to maintain the original menacing expression of the Lambo and at the same time they have contributed to the appearance and functionality with their own styling concept. There are neat additional carbon-fiber spoiler lip between the air intakers, pronounced fixed wing that is named "Pura Vida", meaning Pure Life, numerous more car inserts and of course, tons of badges and visuals.
SEE ALSO: This Huracan Final Edition sets new standards among bespoke rivals
The whole beautiful and yet aggressive styling is further enhanced by an exclusive set of alloys that are maybe the first thing that people would notice about this car. These are indeed black Mansory V10 wheels with orange accents. Sized 9.0x20 inches in front and 12.5x21 inchs at the rear, these are accompanied by 245/30ZR20 and 325/25ZR21 Michelin or Pirelli tires. Sweet, isn't it?
Interior styling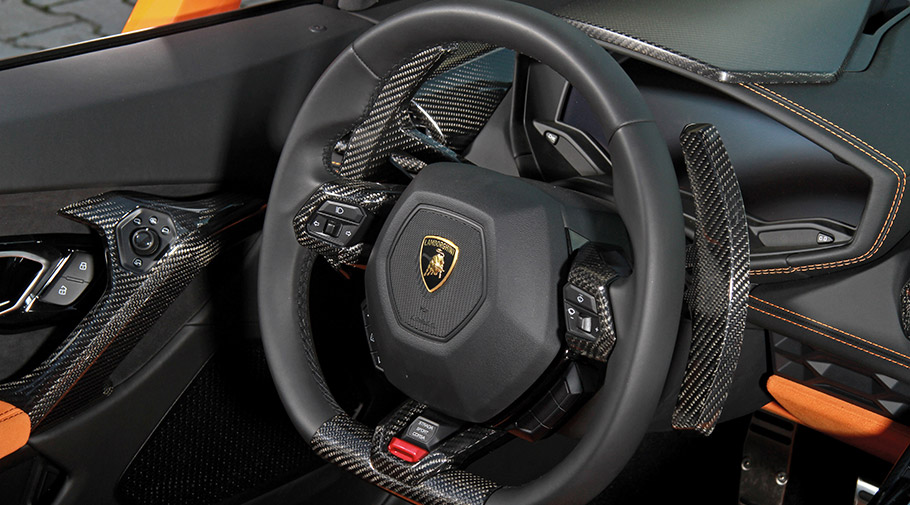 The cabin is entirely carbon-fiber-dominated. VOS team has applied glossy carbon components to the central console, door inserts, air vent nozzles, sill entrance panels, steering wheel and the paddle shifters. And the most interesting thing is that it is all functional, but in the same time it looks super sexy. Especially with that neat contrasting orange color that follows the exterior pattern to the interior space. We like it. We definitely like it!
The rest of the story is pretty familiar: we got this classic Lamborghini cabin architecture that is entirely driver-oriented and especially designed to keep driver and passengers in good shape while the adrenaline rush kicks in. Pure pleasure!
Drivetrain system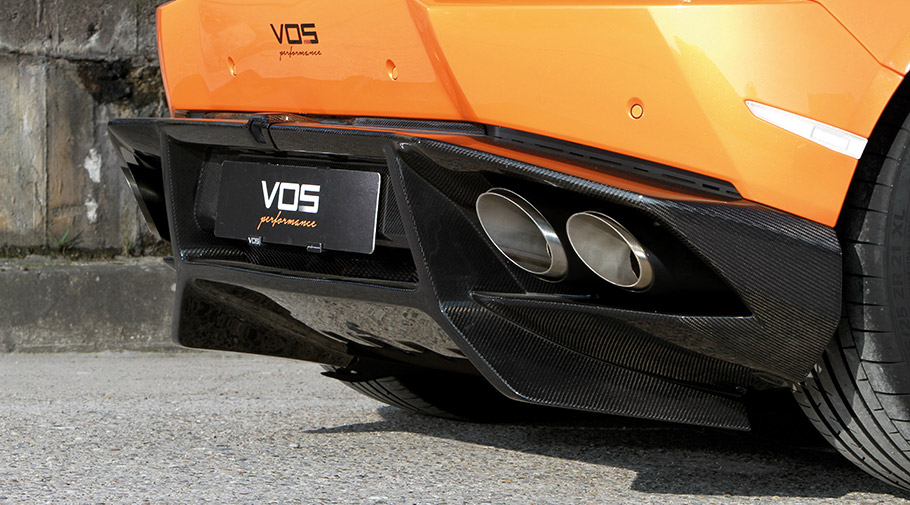 Now we are talking! VOS Performance has tweaked the whole engine system in a rather interesting way. Because of the team's handy changes and tweaks, the whole vehicle is a bit lighter and faster. The Akrapovic titanium exhaust reduces a total of 20kgs from the overall weight and at the same time boosts the power output with additional 20hp and 22Nm of torque. Furthermore, the intake system now benefits from free-flow filter that not only enhances ram airflow, but also reduces noise.
Chassis now proudly showcase a fresh new set of H&R sport spring pack that lowers the static ride height with a total of 35mm and improves cornering, high-speed stability and brings that more race-ready stance.
Pure life. Pure style.
Source: VOS Performance