Vorsteiner Shows-Off With Obsidian Black Mercedes-Benz CLS63 AMG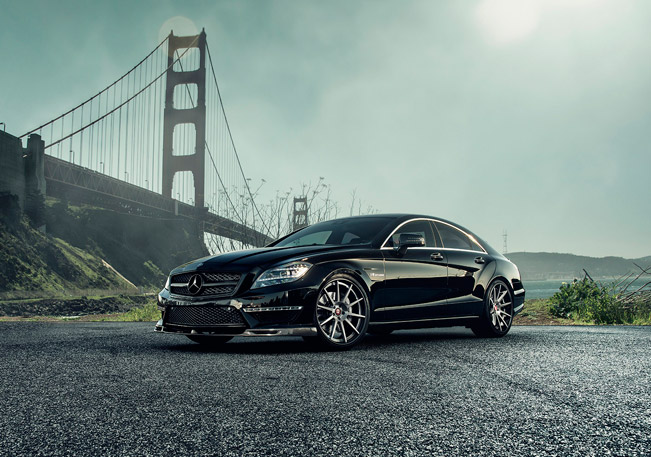 This Obsidian Black Vorsteiner Mercedes-Benz CLS63 AMG looks fantastic, and this is clearly visible in the latest photoshoot which the Californian tuners have done. This new project includes a lot of carbon fiber aerodynamic components which are from company's program for the CLS63. In addition, Vorsteiner gave this vehicle a set of 21" 3-piece forged wheels, which were fitted specifically for the W218 platform.
Although the specialists did not do anything on the powertrain of the Mercedes, it is still impressive and shows amazing figures. To be more precise, this Obsidian Black CLS63 AMG is driven by a 5.5 liter bi-turbo V8 engine, which produces 557 horsepower (410 kW) at 5,500RPM and 720 Nm (533 lb-ft) of torque at 1,750RPM. It can sprint from 0 to 100 km/h in just 3.7 seconds, but we suppose that after the addition of aero components, this number has decreased.
The power is transmitted onto the road via AMG Speedshift MCT seven-speed sports transmission, which offers four modes of driving: "C", which stands for controlled efficiency, "S" – for sport, "S+" – for sport plus and "M" – for manual). Also included here are the automatic double-declutching function for downshifting and the Race Start function.
But to go back to the project, as you can see, this stunningly beautiful Mercedes has some new exterior elements it can show-off with. These are the included aero components made of Vorsteiner's Pre-Preg carbon fiber. In details, they are the front spoiler, rear diffuser, and decklid spoiler. The result is that they deliver the signature for the tuning company graceful aggression.
The Obsidian Black Vorsteiner CLS63 AMG of course runs on custom wheels, which are a one-off three-piece variation of our Sport Challenge VSC-103 series. They have gloss brushed shadow centers as well as matte black reverse lip. The dimensions of the wheels are as following: at the front they are in the size of 21x9 inches, while at the rear – 21x11 inches.
At last, to complete the project, Vorsteiner had to add tyres in the appropriate dimension. The chosen rubbers are Pirelli P Zero and they measure at the front 255/30/21 and at the rear - 295/25/21.
Source: Vorsteiner