Volvo's New Drive-E Powertrain Concept Delivers more than 450 Horsepower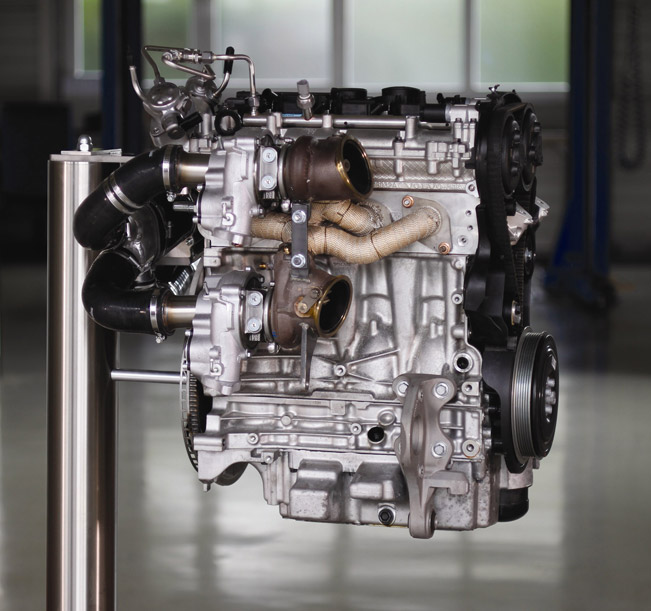 Volvo's Drive-E Powertrain Concept is delivering unique mix of performance and efficiency. Precisely, this unit is a triple boost 2-liter 4-cylinder petrol engine which is potent to produce no less than 450 hp. More interestingly, the 450 hp (331 kW) High Performance Drive-E is based on a set of technologies not usually found in a four cylinder engine. The powerplant utilizes two parallel turbochargers that draw force from electrically powered turbo-compressor.
The compressed air from this unit is used to spool up the two parallel turbochargers. Furthermore, the fuel is fed by a dual fuel pump working at 250 bar pressure. This power density, along with the triple boost installation and unique fuel system, enables a very dynamic drivability.
The engine has already attracted the attention and involvement of Volvo Cars suppliers AVL, Denso and Volvo Polestar Racing at an early stage. They have allowed the theories and technologies that they are using for racing to be infused in the development process.
This combination of technologies will end up in a unique engine with its high power yet quick response. What is more, its compact size enhances weight distribution between the front and rear axle and lowers the center of gravity. This had a major effect on the handling of the car using the engine.
In addition, the compact powertrains deliver more space and have less weight, thus entirely modifying the structure of the car. The freed space and saved kilograms can be used for electrification and even additional emissions reduction.
Source: Volvo