Volvo V40 Cross Country Unveiled!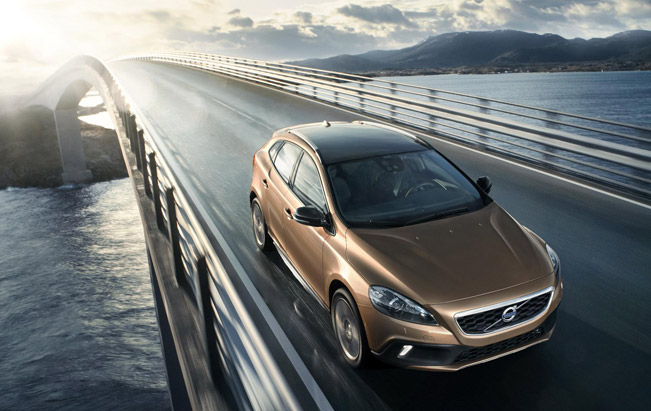 2013 Volvo V40 Cross Country brings the unique blend of capable ruggedness and expressive elegance in the premium C-segment. The new Volvo model mixes class-leading driving dynamics, interior convenience and a powerful stance, impressive fuel economy and pioneering safety technology.
Standard in this new model line-up is the Start/Stop function. Also standard is the Bluetooth hands-free communication and wireless music playing, plus City Safety auto-braking technology, pedestrian airbag and Pedestrian Detection technology.
In fact the V40 Cross Country is the third variant of the V40 family. It includes a number of unique details such as sleek silver roof rails, alloy wheels available up to 19-inch, contrasting front bumper, honeycomb mesh grille and upright day-running lights, sculpted, contrasting sills, contrasting rear bumper with integrated skid plate. In addition, the interior of this crossover is in contrast with the Raw Copper exterior via the stitching.
The D2 version of the V40 Cross Country has class-leading CO2 emissions of just 99 g/km. This is possible thanks to the unique 1.6-litre diesel engine which has 115 hp (85 kW) and 285 Nm (210 lb-ft) of torque. The D2 unit is mated to a six-speed manual gearbox and start/stop function.
Furthermore, the other units featured in the line-up are the five-cylinder 2.0-litre D4 turbo-diesel and the 2.0-litre D3. The first one has been optimized and hence is now more fuel efficient. It generates 177 hp (130 kW) and has torque of 400 Nm (295 lb-ft) across a wide rpm range.
This means that the acceleration from 0 to 100 km/h is possible in 7.9 seconds, when equipped with the automatic gearbox. The fuel consumption and CO2 emissions are 64 mpg (117 g/km) with a manual gearbox and 54 mpg (137 g/km) with the automatic.
The other engine produces 150 hp (110 kW) and has 350 Nm (258 lb-ft) of torque. Both turbo-diesels can be either matched to a six-speed automatic transmission or six-speed manual gearbox.
Furthermore V40 Cross Country includes class-leading driving dynamics the standard All-Wheel-Drive on the T5 petrol turbo model. Its five-cylinder 2.5-litre T5 engine generates 254 hp (187 kW) and 400 Nm (295 lb-ft) of torque. The model is available only with automatic transmission and has an acceleration time from 0 to 100 km/h of 6.0 seconds. The fuel consumption here is 34 mpg.
Another engine option is in the T4 petrol model, namely the 1.6-litre GTDi engine. It generates 180 hp (132 kW) and has a maximum torque of 270 Nm (200 lb-ft). Its fuel consumption is 51 mpg, which corresponds to CO2 emissions of 129 g/km.
Another unique feature here is the Hill Descent Control (only standard on the T5 AWD version). It controls the car's speed automatically when driving down steep inclines. The V40 T5 AWD Cross Country also has a practical Hill Hold function which makes starting on a hill easier.
The T5 version comes with an automatic six-speed Geartronic gearbox only, while the T4 is available with the automatic six-speed Powershift transmission or a six-speed manual gearbox. The Powershift operates as two parallel manual gearboxes with separate clutches. This system provides quick and fuel-saving gear changes.
Wide range of accessories is included as well. Some of them feature: Parcel Shelf Net that keeps smaller items secure and in order, Load Organiser that includes a load compartment divider, load belt and two floor rails, smart storage compartment below the armrest, two cup-holders and a 12V power outlet integrated in the console in front of the armrest.
Unique feature regarding the interior is the lighting, which is designed to give a "theatre lighting experience". Here LED lamps are utilized in order to lighten up important areas. The occupants can enjoy a red-to-blue setting that adapts the light to the interior temperature, for example. They can also choose between another seven mood themes.
As an option, V40 Cross Country can also be equipped with a TFT digital instrument cluster. Here the driver can choose one of three modes – Elegance, Performance or Eco – depending on what information they prefer to see while driving.
Source: Volvo