Volvo PV444 Model Turns 70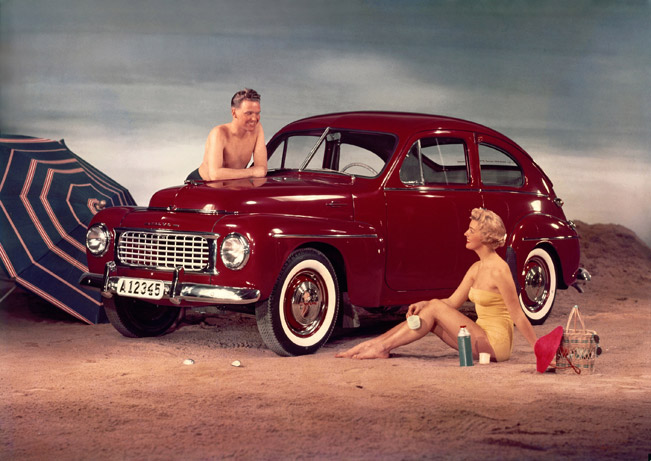 Volvo PV444 makes 70 year anniversary this year. On 1st of September 1944 an exhibition opened at the newly built Royal Tennis Hall in Stockholm. The exhibition showed what the then newly built company had achieved and what plans to do in the feature. The exhibition covered the entire Volvo range and two new models: PV60 and the PV444, which were later called "Volvo's doves of peace" after the end of Second World War.
PV60 was due to be presented in 1940, but because of the military situation the debut was postponed for four years later. The big star at the exhibition at the Royal Tennis Hall however, was the PV444. An interesting fact is that the visitors were so many that they had to stay on several levels to catch a glimpse of a prototype of the car could not even run.
Around 40 designers were working on developing the new Volvo model. They had so far a full scale black wooden model with silver paint denoting where there were meant to be windows. The car was completed in March 1944.
During the exhibition 2300 sale agreements were signed. Due to the fact that prototype cars were subjected to tough testing, and it was only on 3rd of February 1947 that the first car was signed off. PV444 was the firs small Volvo produced, but also was the first model to use monocoque body.
Moreover, it was driven by four-cylinder engine which featured completely new design and was Volvo's first overhead valve design for a passenger car. The unit was 1.4 litres and its first version was capable of 40 hp (30 kW). All of the produced models were painted black with cellulose paint with metal parts inside the car painted in a light green colour.
Volvo began exporting the PV444 in the United States, making it the model's historically most important export market. On 15th of August 1955, the first trial delivery of PV444s arrived in Los Angeles. One year after this, Volvo became the second import brand in California.
Originally, the Swedish company intended to build 8,000 PV444s. Nevertheless, the production of the "little Volvo" achieved almost 200,000 PV444s in 1958. If one includes the modernized PV544, produced until October 1965, the total number of the produced vehicles becomes exactly 440,000 cars.
Source: Volvo