Volvo Cars And Accessories For The Active Lifestyle
The Volvo range is ideal for people with active lifestyles, from the versatile range of estates and the go-anywhere capabilities of the XC models to the sporty and stylish saloons and coupes.  Volvo's range of accessories adds even more versatility and supports owners with a passion for outdoor pursuits.
Perfect for summer outdoor activities is the windsurfing/surf board holder and the new state-of-the-art lightweight aluminium bicycle holder which both make the transport of sports equipment easier and without taking up valuable luggage space.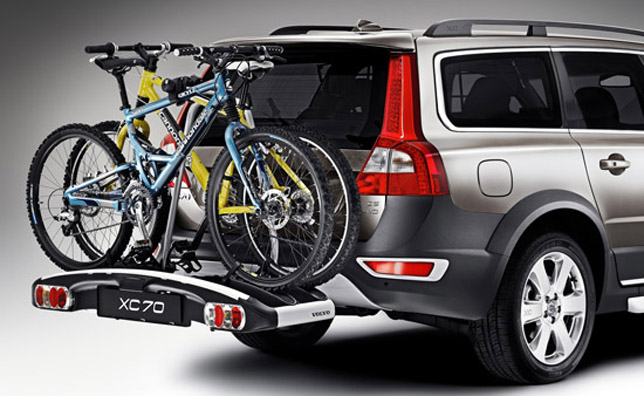 Bicycle Holder
Available on all cars in the Volvo range, this easy to use holder houses two bikes safely and securely. Fitted to the rear of the car on a 7 or 13-pin towbar, this low installation holder makes it easy to load and it can also be tilted away from the vehicle for easy access to the luggage compartment without having to remove the bikes or holder.
The bicycles don't need to be taken apart to load and they are held securely thanks to the adjustable tensioning arms in the frame and retaining straps around the wheels. The tensioning arms are rubber coated for maximum grip and to protect the bicycle frame. The carrier is equipped with a "double" locking function so the bicycles are locked securely to the carrier and the carrier is locked securely to the towbar.
Fulfilling legal requirements, the holder is equipped with tail lamp bar and number-plate holder. When not needed, the holder can be folded away for easy storage. And if you need to carry a third bicycle, an extra holder is available. Prices start at £338.17 inc VAT for the holder and £81.31 inc VAT for the extra attachment.
Windsurf/Surf Board Holder
A simple and safe method of transporting all types of windsurfing or surfing boards, this combines a holder for the mast and a soft rubber profile to protect the board. The holder is easily secured to Volvo's load carriers on the roof. This holder is once again available on all models in the Volvo range and is priced at £40.58 inc VAT.