Volkswagen gears the almighty Touareg with luxurious trim level, called R-Line Plus. Check it out!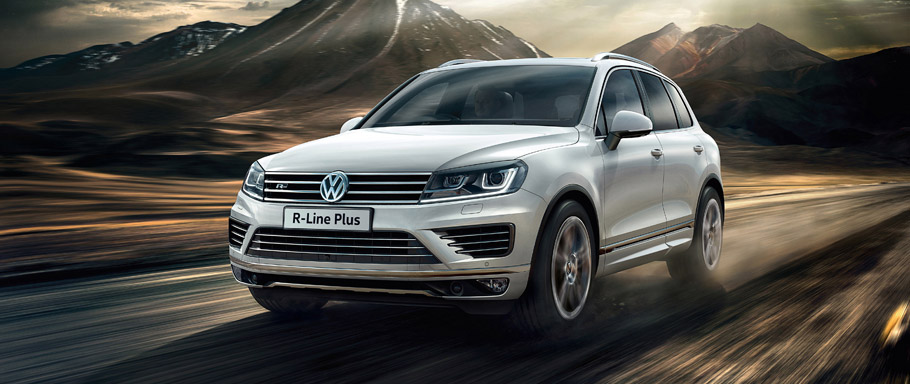 The latest VW Touareg is one of brand's most popular luxury SUVs and in order to remain high in the ranks, the fellow engineers at Volkswagen upgrade the lineup with new range-topping trim level: R-Line Plus.
Offered with the highest at the moment trim level, the special upgrade has a lot to offer. First of all, there is a slight change in style: the five-seater receives 21-inch "Mallory" design wheels that replace the old 20-inch ones. In terms of performance and utility stuff, the Touareg will benefit from the impressive Area View technology, which improves the front, rear and side wide-angle cameras to provide a full 360-degree bird's-eye exterior view.
The interior has also been refreshed with stylish "Piano Black" finish on the central console, dash and air vents. Also, the new "Vienna" upholstery dominates the whole cabin, while the new 14-way electronically adjustable seats and the front head restraints ensure comfortable and pleasurable ride.
SEE ALSO: Barely touched and barely driven 1974 Volkswagen Beetle seeks its new owner!
In terms of drivetrain system and performance rates, the vehicle offers the aid of either a 3.0-liter V6 TDI with 204hp (152kW) or the 262hp (195kW) 3.0-liter V6 TDI unit. Both offer relatively good rates, measured at 42.8mpg on the combined cycle and CO2 emissions of 173g/km for the 204hp version and 174g/km for the 262hp version.

And all that topped with lowered sporty suspension, R-Line body styling, panoramic sunroof, Bi-xenon headlights, heated steering wheel, electric tailgate and keyless entry. Sweet.
Stay with us for further details.
Source: Volkswagen