Volkswagen & Beats Electronics proudly present Polo Beats with 300-watt sound capability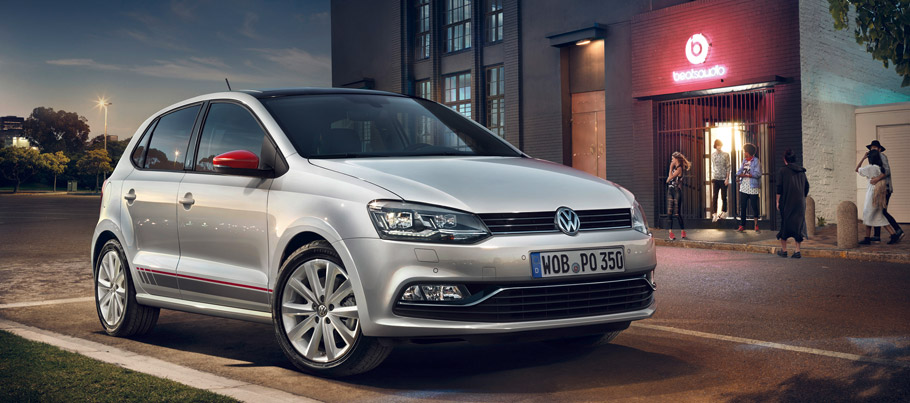 Volkswagen has just announced the market release of the Polo Beats Special Edition. Developed within the collaboration with the audio specialist Beats Electronics, this small car is actually capable of fantastic sounds. The fresh styling cues are also a benefit. Here are the details.
The Sound System
The unique sound system comprises of 300-watt, eight-channel amplifier featuring a digital signal processor (DSP).  The latter delivers high-performance audio processing of the seven high-end loudspeakers. The speaker's location is the following: two tweeters in the A-pillars, two woofers in the front doors, two broadband speakers in the back with a subwoofer integrated into the spare wheel well.
The Fresh Looks
Some of the exterior styling cues, which are standard for all Polos are also fitted here. These include the 16-inch 'Knight' alloy wheels. Differentiations are the darkened rear light clusters and 65 % tinted rear windows; the 'High Gloss Black' radiator grille and the 'Flash Red' graphics, 'Pure White' or 'Black' door mirrors with integrated indicators. To shw the significance of the model, there is unique 'Beats' badge on the B-pillar.
SEE ALSO: OXIGIN Volkswagen Golf 7 GTI Clubsport is a piece of art
In terms of the interior, the Polo Beats is equipped with 'Cortina Silver' trim on the centre console and air vent surrounds; leatherette door panels and chrome trim; carpet mats with red stitching, and 'Beats' sill protectors on the doors. The seats are  sporty and they feature Alcantara side bolsters and a special 'Beats' cloth centre section, while the seatbelts add to their design thin vertical red stripes.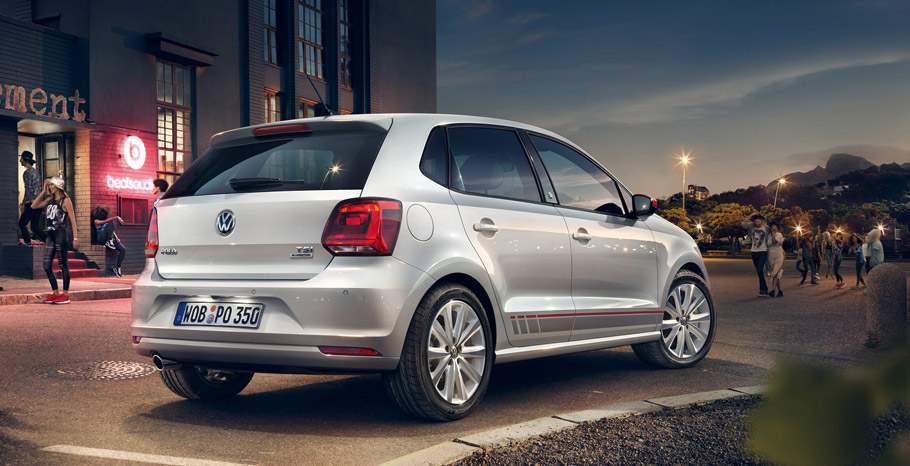 The EngineRange
Polo Beats Edition will be offered with three- or five-door configuration. Customers can also choose among three petrol units and one diesel engine (specifications are included in the table below).
Volkswagen Polo Beats is available to order now with a starting price of £13,910.
Volkswagen Polo Beats Pricing
Engine
Transmission
No. of doors
Power
CO₂ (g/km)
OTR Price
1.0 BMT
Five-speed manual
Three-door
60
106*
£13,910.00
1.0 BMT
Five-speed manual
Five-door
60
106*
£14,540.00
1.0 BMT
Five-speed manual
Three-door
75
108*
£14,435.00
1.0 BMT
Five-speed manual
Five-door
75
108*
£15,065.00
1.2 TSI BMT
Five-speed manual
Three-door
90
107*
£15,055.00
1.2 TSI BMT
Five-speed manual
Five-door
90
107*
£15,685.00
1.2 TSI BMT
Seven-speed auto DSG
Three-door
90
109*
£16,430.00
1.2 TSI BMT
Seven-speed auto DSG
Five-door
90
109*
£17,060.00
1.4 TDI BMT
Five-speed manual
Three-door
75
93*
£16,120.00
1.4 TDI BMT
Five-speed manual
Five-door
75
93*
£16,750.00
Source: Volkswagen