Vilner Creates the Most Eccentric MINI One Cabrio in the Universe

This is one of the craziest, most adorable and coolest interiors I have ever seen! And I have seen many. Under the exquisite work done here stands the name of Vilner, which has recently opened a studio in China. By the way, this is the first official project of the Beijing Studio they have decided to show to the general public.
As Vilner says, this is literally "the most eccentric MINI One Cabrio in the Universe". The project was commissioned by the young actress Tyan Lynn, who wanted to express her sensuality and her motto in life: "Success can be limitless, just like the Universe". As a result the interior is so colorful, that it barely needs any description… Nevertheless we should tell you the details, because this car is so inspiring that the word should be definitely spread.
As a matter of fact, the interior also received elements of pure gold, like the hand crafted icons on the buttons under the speedometer, some of the controls and the console in front of the gearshift lever. The latter has also received gold plating just like the roll-bars behind the heads of the rear occupants.
SEE ALSO: Art Studio Vilner Officially Opens Doors in Beijing 
Basically the actress wanted the interior of her R57 in the colors of the Universe. This is a very tough task that shouldn't be underestimated. That's why Vilnerapplied 25 layers of paint and varnish that cover all plastic parts on the dashboard and steering wheel, including the bezels of the vents.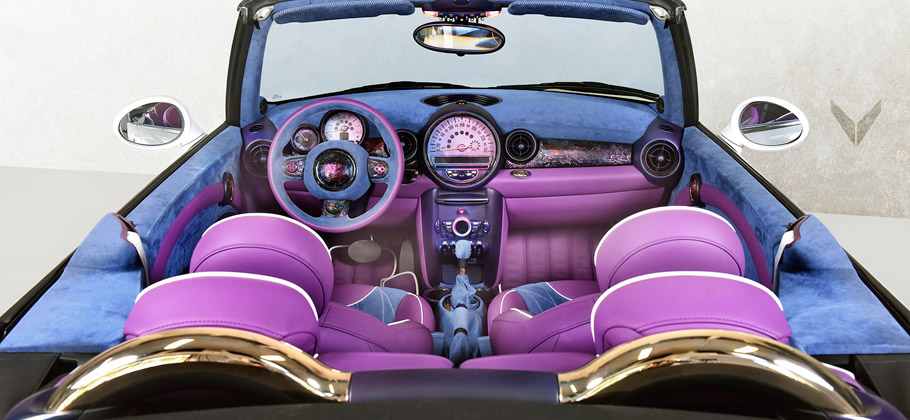 For the upholstery the tuning studio has utilized pure leather and Alcantara in eccentric color which emphasizes the Universe. The purple is a representation of the "sweetness of life", while blue stands for the vastness of the human soul. White has been used for the stitching and the seat belts.
On the outside the car has received minor changes: white alloys and asymmetrical coloring for the new wheel arches. The front ones come in blue paint, while those at the rear are in white. This is probably the most extrovert MINI ever made, isn't it?
And don't miss our Top 5 Star Wars Themed Cars!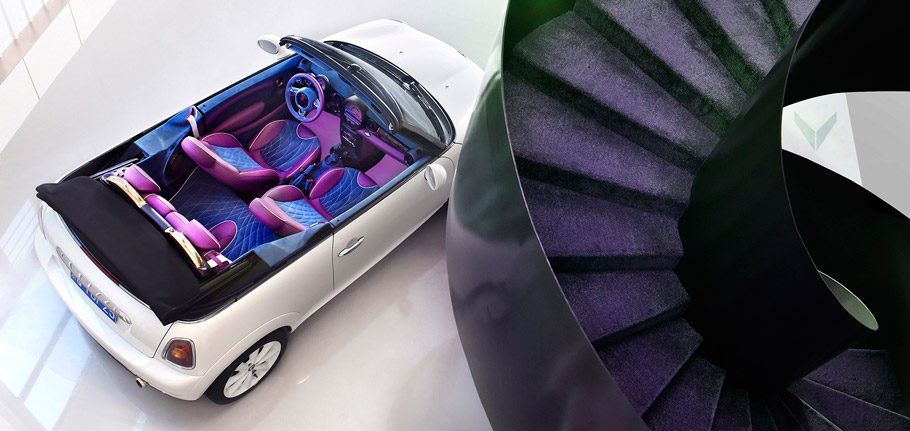 Source: Vilner