Vauxhall Adam Rocks Ready To Roll In Geneva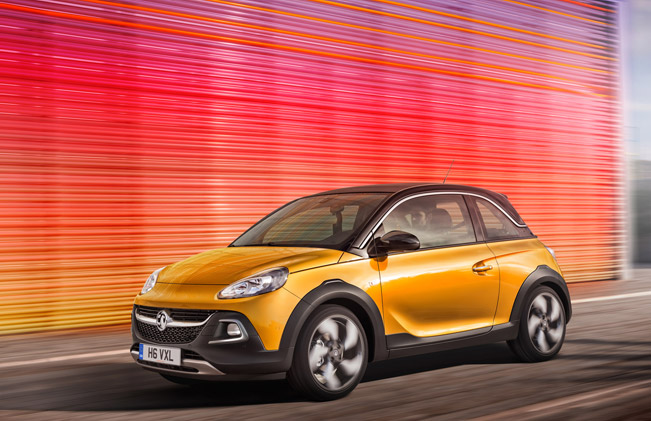 Vauxhall's urban mini-crossover Adam Rocks is going to make its first official appearance in Geneva. What is the difference between the Rocks addition to the Adam model range to the other vehicles in the line-up? Well, first that has to be mentioned is that Adam Rocks is taller, wider and tougher in terms of appearance.
The second thing visible at first stance is that it offers a full-length electric folding canvas roof. Precisely, Rocks is with 15mm raised chassis. This fact required parts of the chassis system to be modified or re-tuned. Dampers, springs, the rear suspension geometry, and steering were all refined.
The higher and wider stance of the car is supported by a choice of 17-inch or 18-inch alloy wheels, which can be additionally personalized with new wheel clips in "Wild" design and different colors.
Another element that contributes towards the muscular look of the car is the protective, anthracite-coloured cladding wrapped around it. Moreover, the front trapezoidal grille features a chrome central brand bar, is also embedded in the cladding.
In contrast to it are the satin chrome 'boomerang' elements which frame the front fog lamps/indicator housings and the reversing/fog lamps at the rear. In addition, an integrated rear roof spoiler and LED daytime running lights are also featured. Silver skid plates front and rear and a bold chrome exhaust complete the exterior design. Vauxhall has also announced that it will add new exterior paints, revealing only one of them – the yellow Goldbusters.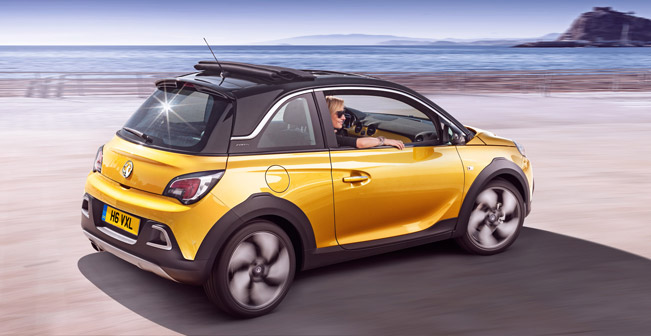 Another highlight here is the electric folding canvas roof, which can be operated via a button located in the front area of the headliner and folds back neatly on to the C-pillars in five seconds. The folding canvas roof will be offered in a choice of three exterior colours – Black, Sweet Coffee and Light Oak.
Inside, the same creative design manner is being utilized. Two new interior trims are available. They include a main instrument cluster, seat and door panel colors and other trim elements. One trim has elegant-sporty Peanut-colored fabric/Morrocana seats and door panels, leather steering wheel, gearshift and handbrake in the same color, and a "Surf" décor trim. On the other hand, the second one features a sophisticated Coffee Bean design, in other words - rich dark brown seats in a black cabin trimmed with bright blue stitching.
Vauxhall Adam Rocks will be also the first vehicle to be equipped with company's new 1.0-litre ECOTEC Direct Injection Turbo three-cylinder engine, which packs up to 115 hp (85 kW) and 166 Nm (123 lb-ft) of torque. Fuel-saving Start/Stop technology is an integral part of the system and will be offered as standard.
The powertrain will be offered in a choice of two outputs, 90 hp (66 kW) and 115 hp (85 kW). Both versions will be coupled with a new six-speed manual gearbox with a compact package design.
Other engines included in Rocks are the three current four-cylinder naturally-aspirated units: 1.2-litre engine with 70 hp (51 kW) and a 1.4-litre available in two power outputs, 87 hp (64 kW) and 100 hp (74 kW).
Source: Vauxhall