Vath V25 Mercedes-Benz CLA - 265HP and 420Nm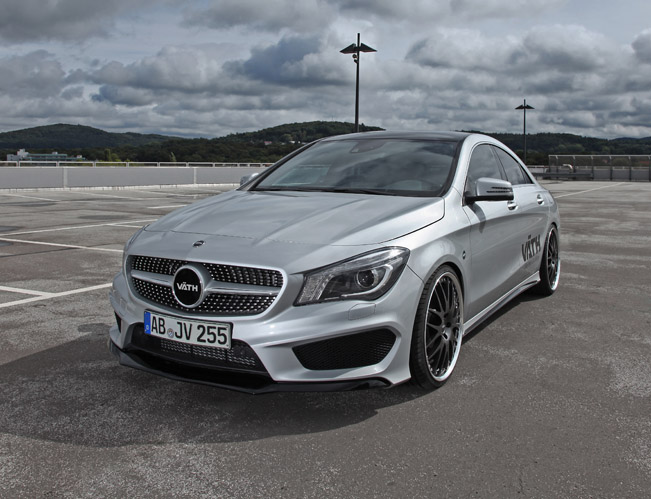 Vath has announced their V25 CLA 250 based on Mercedes-Benz four-door coupe.  The tuned car comes with both – styling and performance modifications.
The 2.0 liter turbocharged petrol engine can be boosted to 265HP (195 kW) and 420Nm (310 lb-ft) – an increase of 54HP and 70Nm. The result is thanks to a sports exhaust system, a bespoke air filter system and an ECU remap. 0-100 km/h in 5.9 seconds and a top speed of 250 km/h (155 mph). The price is €4,950.
There is also just an ECU remap for €940 boosting the engine to 245HP (180 kW) and 390Nm (287 lb-ft) of torque.
The exterior gets VATH three-piece alloy wheels – 8.0J x 20" fitted with 225/30 ZR20 for €2,970 for the front axle and 9.5J x 20" with 265/25 ZR20 tires for €3,027. There is also a tail spoiler lip for another €333 and a carbon front spoiler lip will cost you additional €1,416.
The interior features leather/leather sports steering wheel - €1,297, a speedometer enlargement up to 300 km/h – €1,535 and and a wear-resistant foot mat set, made of high quality black velvet, with silver colored VATH logo - €226.
The stance can be improved by installing a lowering sports suspension for €452 or fully adjustable sports coilovers allowing lowering from 20 to 65 millimeters - €3,546. The braking system can be also optimized by steel flex tubes and "Castrol SRF" racing braking fluid - €464
Source: VATH