Toyota Avensis with Touch and Go Plus
Toyota now offers Toyota's innovative and affordable Touch and Go integrated multimedia and navigation system as a standard feature on all models bar the entry level T2 grade. The new Avensis takes in-car connectivity to an even higher level by bringing more functionality and versatility of the system to include features such as access to email, advanced traffic data improved mapping, and voice recognition.
Having the ability to keep connected to key communications channels while on the move will further strengthen the appeal of new Avensis to business customers, in addition to the attractive company car tax position enjoyed by the new 119g/km 2.0 D-4D diesel engine, which makes its debut in the 2012 Avensis.
Touch and Go Plus
Avensis is the first Toyota to offer Toyota Touch and Go Plus. It is designed for quick and easy use, with an advanced voice recognition system for inputting navigation addresses and "one-shot" destination entry. The on-board entertainment functions include a music search-and-play and, using a Gracenote database, a 'Play More Like This' music function.
Email can be sent and received and, for convenience on the move, there is a text-to-speech message function and a phonebook search-and-call facility.
The more sophisticated satellite navigation mapping incorporates 3D city modelling and landmarks, and an additional Traffic Patterns database which shows the average speed on sections of a programmed route, according to the time, day and month.
The system includes three years' free map and software updates.
Future upgrades will enable text messages and emails to be dictated, and for the screen to display Google Search Street View.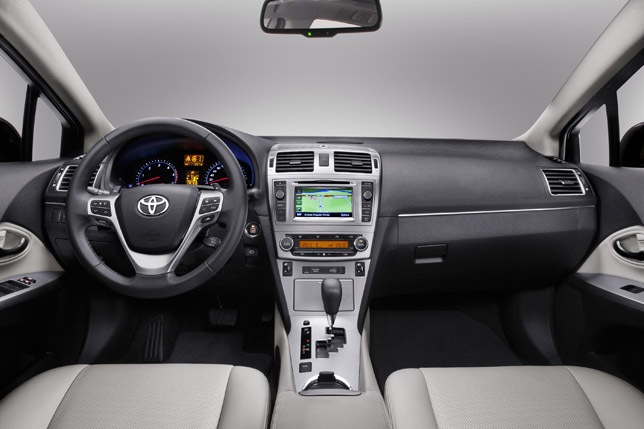 Toyota Touch and Go – key features
6.1-inch touchscreen
Pan-European satellite navigation
Motorway-style signposting
Eco-route option
Driver can enter and store personal points of interest (POI)
Stop-over function (route navigation resumes after a break in a journey, such as an overnight hotel stop)
Detailed live traffic information
Speed limit and safety camera warnings
SMS/text message sending and receipt
Bluetooth
Connection via Bluetooth and compatible mobile phone to Google Local Search and downloadable applications*
Rear-view camera
Phone book integration with pictures of contacts displayed on-screen.
Audio streaming from iPods and other portable music players
iPod album cover display
* Requires a Bluetooth compatible phone with data connection enabled and tethering permitted by the mobile network operator. Connection requires customer log-in via the Toyota customer portal.
Toyota Touch and Go Plus – additional features
Advanced voice recognition
Enhanced mapping with 3D city modelling and landmarks
Email and calendar integration
Text to speech function
Music search and play
"Play more like this" music function
Traffic patterns database
Source: Toyota