Toyota shows revisited Corolla range and 86 sports car for the first time 

So these are the restyled 2017 Corolla iM hatch and 86 sports car. Toyota also made revisions on the Corolla lineup, but there are no pictures to show. Anyway, you can see the similarity between the Scion FR-S and the 86 and this is because the recently "closed" Scion brand, has entirely transitioned to the Toyota. If this is nothing new to you, then you'll see that the cars are identical. Well, almost.
2017 Toyota 86
There are some additions to the 2017 model year car, like the more aggressive styling, wider stance and the new LEDs and DRLs at the front. The turn signals, fog lamp bezel and bumpers as well as LED tail lights have been also revised. New alloys are always mandatory for facelifts: here we see wheels with new twisted spoke design and 86 logos.
The big change throughout the interior is the new "Granlux" material used on the instrument panel surround and door trims. New materials wrap the seats and steering wheel, which is contrasted silver stitching.
SEE ALSO: Toyota improves the 86 sports car based on victories at Nürburgring 
The updated engine gets coupled with a six-speed manual, thus delivering 211 Nm (156 lb.-ft.) of torque and 205 hp (151 kW). Toyota 86 also promises to deliver outstanding fuel economy: EPA-estimated 20 city/27 highway with the six-speed manual, and 23 mpg city and 32 mpg highway with the six-speed automatic transmission.
2017 Toyota Corolla
Did you know that the Corolla is actually 50 years old? To celebrate this, Toyota has released the SE 50th Anniversary Special Edition model next to the entirely refreshed new range. With sportier looks, new front grille and LED headlamps, the L, LE and LE Eco grades gain Bi-LED headlamps, while complex-LED headlamps come standard on SE, XSE and XLE grades. A back-up camera is now standard across the Corolla line, as are the new alloys.
On the inside there are various color schemes (Almond, Ash/Dark Gray or Black/Brown, Vivid Blue, Orange Zest, and Black premium) depending on the trim level, as well a redesigned climate control panel and circular air vents.
New audio system and advanced Toyota Safety Sense-P (TSS-P) technology is also standard on all Corollas.
The Corolla 50th Anniversary Special Edition is more than exclusive! It sports one-off exterior shade called Black Cherry Pearl but it is also available in Classic Silver and Blizzard Pearl. The cabin is adorned by black mixed media seats with Black Cherry piping and contrast stitching, which also goes for the steering wheel and gear-shift lever. The car will be offered in a limited run of just 8,000 vehicles.
2017 Corolla iM Hatchback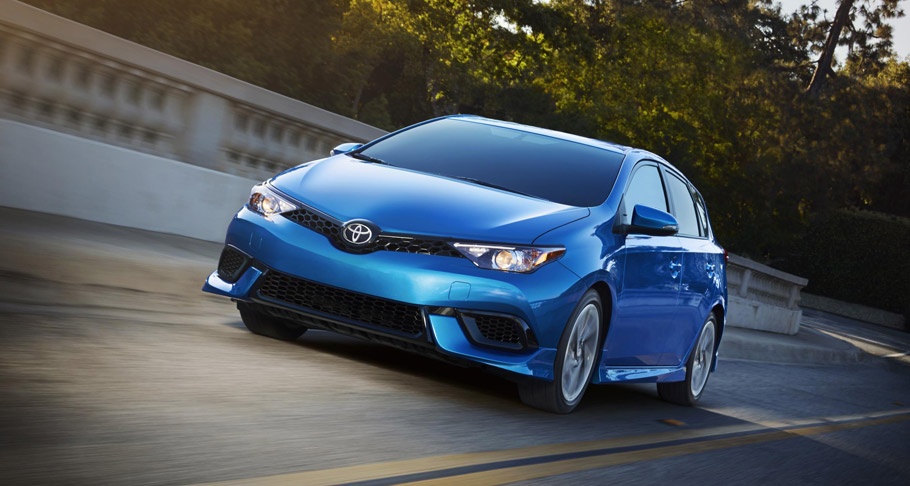 Corolla iM hatch is a sweet surprise: it is fun-to-drive, has the looks and is stuffed with high-content and high-MPG features. It is built over a chassis with sophisticated double-wishbone rear suspension and runs on 17-inch alloys. In combination with the potent 137 hp 1.8 liter engine and the six-speed manual, it is responsive in any situation.
2017 Toyota 86 and Corolla iM will be available in dealerships this month, while the 2017 Corolla lineup will reach the dealers in September. Here is the pricing list if you feel interested:
2017 Toyota Prices:
| | | | | | |
| --- | --- | --- | --- | --- | --- |
| MODEL# | GRADE | MSRP 16MY | MSRP 17 MY | MSRP CHANGE ($) | MSRP CHANGE (%) |
| 6253 | 86 4-cyl. 6MT | $25,305 | $26,255 | $950 | 3.8% |
| 6252 | 86 4-cyl. 6AT | $26,405 | $26,975 | $570 | 2.2% |
| 1832 | Corolla L 4-cyl. CVTi-S | $17,900 | $18,500 | $600 | 3.4% |
| 1852 | Corolla LE 4-cyl. CVTi-S | $18,735 | $18,935 | $200 | 1.1% |
| 1856 | Corolla XLE 4-cyl. CVTi-S | $22,195 | $21,825 | ($370) | -1.7% |
| 1863 | Corolla SE 4-cyl. 6MT | $21,665 | $21,665 | $0 | 0.0% |
| 1864 | Corolla SE 4-cyl. CVTi-S | $20,065 | $20,445 | $380 | 1.9% |
| 1866 | Corolla XSE 4-cyl. CVTi-S | $23,125 | $22,680 | ($445) | -1.9% |
| 1872 | Corolla LE Eco 4-cyl. CVTi-S | $19,135 | $19,335 | $200 | 1.0% |
| 6273 | Corolla iM 4-cyl. 6MT | $18,460 | $18,750 | $290 | 1.6% |
| 6272 | Corolla iM 4-cyl. CVTi-S | $19,200 | $19,490 | $290 | 1.5% |
Source: Toyota