The Force Awakens with Top 5 Star Wars Themed Cars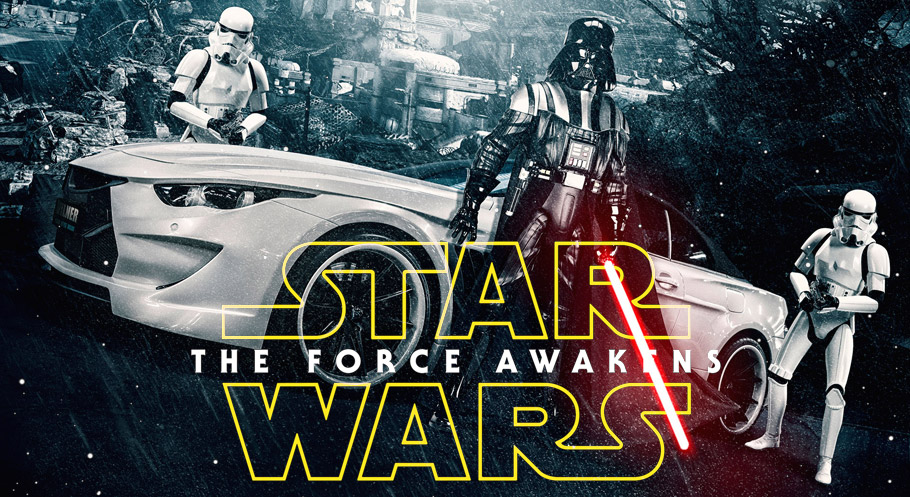 "Star Wars: The Force Awakens" is probably the most discussed topic now. And it should be since this movie has left an indisputable and strong mark in the consciousness of at least three generations. From grandparents to grandchildren, everyone is going to the movie theaters with expectations of a grandeur experience. We are also excited about this world-movie-happening and this is why we decided to make a Top 5 of the Most Attractive Star Wars Themed Cars. This is how we are joining the verge of excitement around the premiere of one of the most emblematic films ever created.
Number 5: Darth Vader's Viper ACR and Stormtrooper's Challenger and Charger

We put the trio on fifth position, because of the little difference they have in comparison to the original cars. These three were seen rolling on the streets of Los Angeles this weekend, and probably many of you living there had the chance of meeting them. The pair of First Order Stormtrooper-themed white 707-horsepower Dodge Charger SRT Hellcat and Dodge Challenger SRT Hellcat traveled in the company of the intimidating Kylo Ren-inspired wrapped black Dodge Viper ACR.
Powered by 8.4-liter V10 engine, the beautiful black Dodge Viper ACR produces 645 horsepower (474 kW) and 813 Nm (600 lb-ft) of torque. It transmits all this power onto the road via the Tremec TR6060 six-speed manual transmission. The car also shows-off with Brembo carbon ceramic brakes, 19-inch alloys and exclusive Kumho Ecsta V720 high-performance tires. Since Darth Vader drives this car, we are sure that he has chosen to add the Extreme Aero package, making sure that he will have the highest aerodynamic downforce of any production car.
SEE ALSO: The Force Awakens: Dodge Joins the Dark Side [VIDEO]
Number 4: Blood Type Racing Hyundai Veloster Turbo R-Spec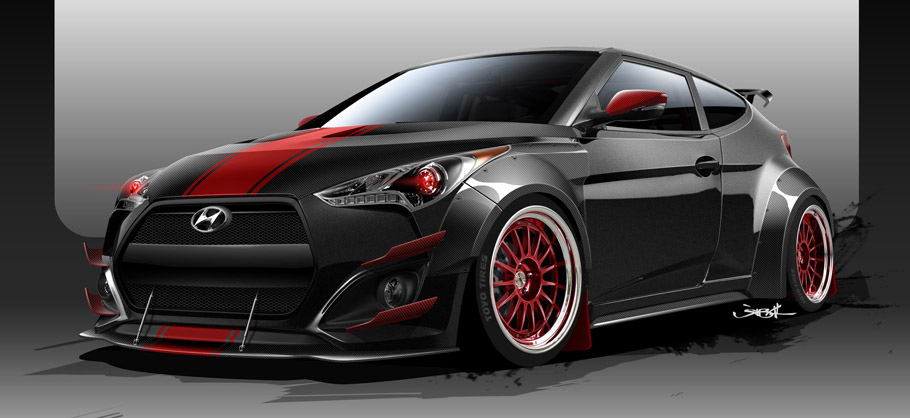 Blood Type Racing has revealed this Veloster Turbo R-Spec at the SEMA show in November this year. It seems that the Veloster has switched to the dark side just in time for the next Star Wars series. It definitely looks like a vehicle that the Sith Lord could drive. It is built with an abundant amount of carbon fiber and dressed in Carbon Black exterior paint scheme, highlighted with a red racing stripe running from the front splitter up onto the hood.
In addition, there is also a carbon fiber wide-body kit that is accompanied by front-mounted aero canards, front splitter and a rear deck spoiler. Red accents on the custom SSR three-piece wheels, along with red projector "demon eye" headlamps are making this car look really devilish. The force that awakes this car is the 1.6-liter "Gamma" four-cylinder engine, which achieves more than 500 horsepower due to ECU tuning!
SEE ALSO: Blood Type Racing Reveals First Sketch of SEMA-Built Veloster Turbo
Number 3: Fiat 500e Stormtrooper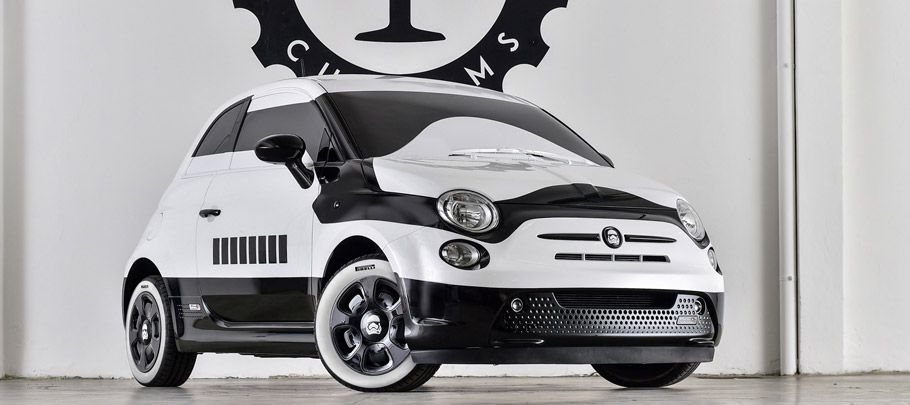 On third position is Fiat's Stormtrooper themed 500e, which has debuted at the Los Angeles Auto Show this November and has caused great furor. Inspired by the First Order Legion, the exterior livery of this Fiat has unique two-tone black and white custom painting and wrapping, making it look like a helmet.
The interior of the car was decorated also in the contrasting combination of black and white. The seats got Alcantara treatment, while the dash was painted in white and enriched by the "Star Wars" logo. The First Order insignia can be also spotted on the two-tone leather-wrapped steering wheel. By the way, this 500e should be attributed to the work of the specialists at Garage Italia Customs.
SEE ALSO: The Force Awakens with First Ever Fiat 500e Stormtrooper
Number 2: Vilner BMW Stormtrooper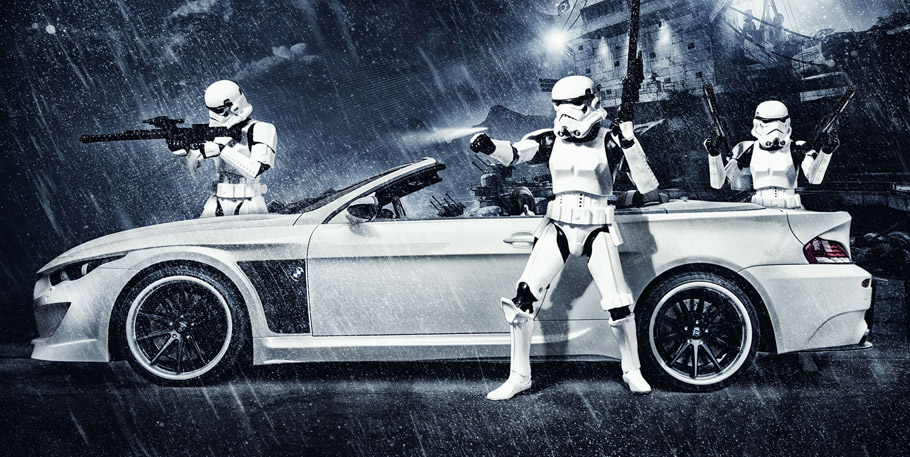 Vilner's unique BMW M6- based project, called Stormtrooper, has been revealed one year ahead of the premiere of the new Star Wars episode. With its sparkling white color and power hidden in its forms, the car is reminiscent of the Imperial Army troops of Darth Vader. This car is one-of-a-kind, features exclusive detailing and powerful presence.
Almost everything in this cabriolet has been changed, starting from the front and rear bonnets, bumpers, rear fenders, and almost all components inside. Running on 20-inch black wheels, this cabrio carries and antique Nappa leather and brown Alcantara interior and a lot of exclusive detailing on the outside. For instance, take a look at the decorative elements of the exterior. The details about this amazing project are featured in the link below. It seems that this car had to be on first position, isn't it?
SEE ALSO: Vilner Reveals BMW Stormtrooper 
Number 1: Hot Wheels Darth Vader Car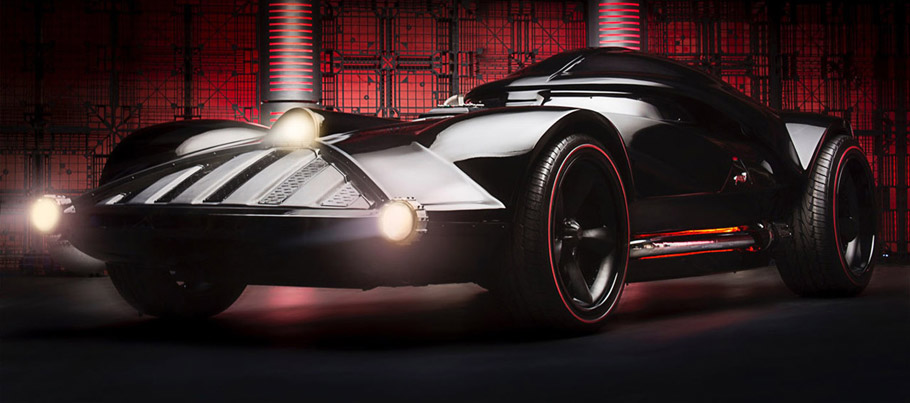 The first place is reserved for the Ultimate Darth Vader car! It just couldn't be the other way around! We have shown you a video yesterday of Jay Leno's experience with it, but if you haven't watched it yet, you can do this in the link below.
Mattel Hot Wheels Darth Vader Car is a result of the collaboration between the two franchises, which has been also released in a 1:64 toy variant. This real-size car is powered by an LS3 V8 engine, which generates 526 horsepower (387 kW) and rides on custom red line tires. It also produces heavy breathing sounds associated with the Sith Lord. The powerful engine drives the rear wheels and also has a backlit, side-exit exhaust system. Furthermore, the "nose" of this unique car is made of carbon fiber, and its design is made in that way so it resembles Darth Vader's mask. The wheels have been specifically designed for this car as are the unique triple headlights and the split windshield. And this is definitely a car worth of first position, because of all the work put on it.
SEE ALSO: Jay Leno is on the Dark Side Riding Darth Vader's Car [VIDEO] 
So this was our choice for the ultimate Top 5 Star Wars Themed cars. And after it we are even more excited about the premiere of "The Force Awakens" on December 18th. How about you? If you like our Top 5 please show your support by sharing it with your friends and on social media.