TECHART Magnum is Back and it's More Beautiful and Powerful than Ever!

TECHART Magnum is a project based on the Porsche Cayenne famous for its uniqueness. Now it is back, more powerful and looking as good as hell! Almost everything has been renewed, starting from the design to the output rating. So let's check it out!
Magnificent Exterior
At the front of the new design of the Magnum we see firmly shaped surfaces. The side air intakes, the bumper and the front spoiler have the typical TECHART shape. The design of the front apron and the splitter optically reduce the height of the car and create an impression for wider appearance, which is further emphasized via wheel arch extensions and side skirts.
The central radiator grill merges with the side air intakes, while the "Airframes" feature in-house made daytime running lights. Regarding the Aero Engine Lid, it is made of carbon fiber and incorporates two air outlets.
SEE ALSO: Porsche Macan and Cayenne Receive TECHART Air Suspension Module
The back of the Magnum is defined by side air outlets that mimic the Airframes of the front apron. In addition, the rear diffusor plays significant role in the design. TECHART sports tailpipes were integrated in the Magnum rear apron. At last, we should also mention the addition of the impressive roof spoiler. TECHART is also offering a wide variety of differently sized unique wheels and tires combinations.
More Core Features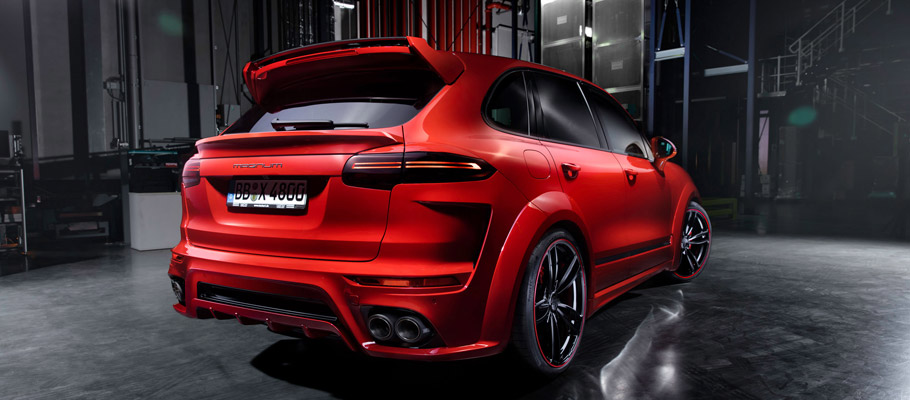 We are talking about the Magnum bodykit. To make an important instance, the air intakes are not just a styling feature, but a functional one, too. The front apron reveals the ducts and air passages which guide the cooling air and dissipates the heat optimally. Water coolers, intercoolers, braking systemor contribute for well-balanced aerodynamics.
Powerkits and Improved Performance
There are three TECHART engine powerkits available for the Cayenne Magnum. The first one increases the horses with 35 hp (26 kW) and comes for the TA058/SD1 for Cayenne S Diesel; the second with 80 hp (59 kW) for the TA058/T1 for Cayenne Turbo; and the third with 180 hp (132 kW) for the TA058/T2 for Cayenne Turbo again.
As a matter of fact the latter powerkit increases the engine power of the Cayenne Turbo from standard 520 hp to 700 hp, while the maximum torque is increased from 750 Nm to 920 Nm. The Magnum based on the Cayenne Turbo can actually sprint from 0 to 100 km/h in only 4.1 seconds. The top track speed is 295 km/h.
Now check out the very cool images of the Magnum TECHART sent us. As usual they are HD and you can download them absolutely for free.
Source: TECHART