Success for Volvo at the caravan club towcar of the year awards 2009
Volvo's extensive experience of designing and developing cars suitable for drivers that tow has again been acknowledged in this year's Caravan Club Towcar of the Year Competition results, announced yesterday.
The Volvo V70 D5 AWD secured victory in the 'Over 1800kg All-Wheel Drive' category, beating rivals from Land Rover, Jeep, Toyota, Mitsubishi and Kia.
Judges praised the V70's six speed automatic transmission, which made it an "exemplary towcar", as well as its overall levels of refinement. Naturally, being an estate car, the V70 was deemed to be a good load carrier and remained poised and level with a caravan hitched up.
The powerful 2.4-litre D5 turbodiesel engine provides a winning combination of high performance and torque levels in a spacious estate car package. The D5 engine delivers 185 PS and comes with a choice of 6-speed manual or 6-speed Geartronic transmission. Geartronic models can return up to 34.9mpg on the combined fuel economy cycle and achieve a top speed of 130mph.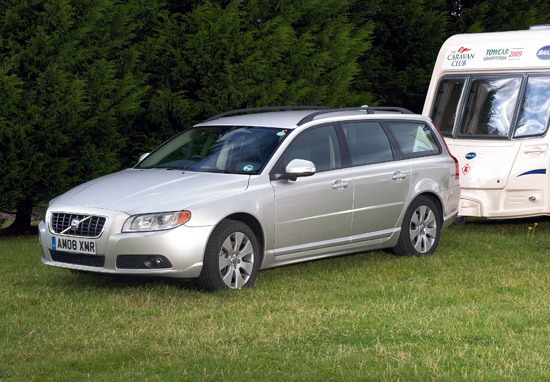 Meanwhile, the Advance Haldex All-Wheel Drive system with Instant Traction™ has an electronic management system that constantly monitors the speed of the wheels and throttle, engine torque and the brakes. As driving conditions change, wheels with the best grip get the most power.
Chris Wailes, product manager at Volvo Car UK Ltd, said: "We are delighted to win another Caravan Club Towcar of the Year award as they are a great recognition of Volvo's commitment to developing good towcars and carry a great deal of respect from the public and our retailers."
This award builds on Volvo's previous success at the Caravan Club Towcar of the Year competitions, the 2007 Awards saw the Volvo V50 D5 Sport not only win the '£25,001 to £33,000' price class but it was also named the overall winner of the competition. The previous year the 185 PS variant of the Volvo D5 turbodiesel engine powered the XC70 AWD and V70 AWD to victory in no less than three classes.
Volvo's commitment to building great towcars is well known. It performs gruelling towing tests for all its new models both in Sweden and the desert heat of Arizona, USA, and even has its own fleet of trailers and caravans which are towed by vehicles steered using advanced robot technology to ensure consistent testing methodology. This testing also includes measuring the lateral acceleration of the trailer and the angle between the car and trailer at different speeds so that steering forces, chassis settings and engines are tuned to optimise their performance when towing.