Sublime 2015 Rolls-Royce Maharaja Phantom Drophead Coupe Arrives in Dubai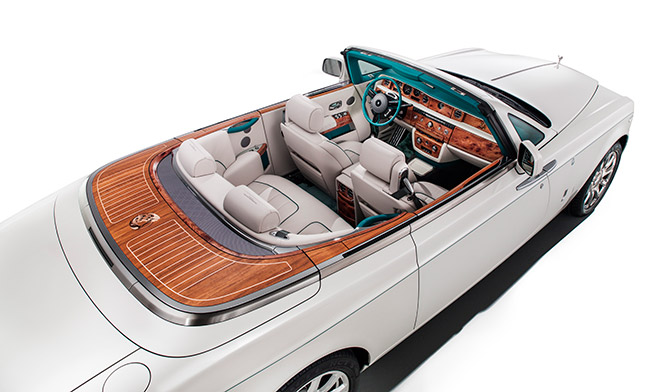 Dazzling, sublime, gorgeous, unique and super-luxury. That is what the special 2015 Rolls-Royce Maharaja Phantom Dophead Coupe is. It could be said that this model is, perhaps, the sheikh of cars which will pierce the heart of everyone who has the chance to see it. After two years in the making, the exclusively eye-catching vehicle is finally created and only distributed to customers in Dubai.
Maharaja Phantom Dophead Coupe is the product inspired by the Golden Age of the Raja which was a time when Indian royalty purchased over 840 extraordinary Rolls-Royce motor cars over a period of five decades. It is conceptualized and hand-crafted by a team of professionals at the Home of Rolls-Royce in Goodwood, England, to praise India's affinity and one of the longest relationship in the world with the super-luxury automobile manufacturer. In order to celebrate and honor Indian culture, the car features a Peacock emblem which is the national bird of India.
The car conveys certain uniqueness on the outside as well as the inside. The exterior of this breathtaking Rolls-Royce gleams in a Carrara White colour, with a Peacock emblem which adds a subtle touch to the Emerald green coachline. There is also a Deep Green hood retracts, disclosing a nicely-crafted deck with a Peacock emblem, again, integrated into the marquetry. The interior is as amazing as the exterior. It amalgamates gently Crème Light leather with Emerald green contours. More intricate Peacock emblems can be found embroidered into the headrests in Emerald green and Cobalto blue colors. This lavish look is complemented by the Peacock feather pattern in Seashell stitching which is placed on the side and central armrests.
All of this designs a vehicle that is so sumptuous and lavishly appointed that even the name is intimidating! It is a car formed without any thought of compromise, restriction or limits in terms of luxurious presence and feel. It comes with a specific attitude and confidence both of which match the character of a real Maharaja.
Source: Rolls-Royce